Youth news
Here is William's story of his visit to Flame 2017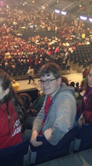 In the week or so before I went to Flame 2017, whenever people asked me what it was, I'd say something to the tune of "It's like a little Christian music festival." I was joking, but I was surprised to find on the day that, broadly, that's what it was.
Flame is the largest collection of Christian Youth in England- over 10,000 young people attended the festival, not including group leaders, adults, and the chaplains and clergymen that came with us. The event was a strange mixture of liturgy, music, and charity. Liturgy was wonderful- the atmosphere you get from 10,000 people going silent is quite moving, and it was sincere and thoughtful throughout. The music was incredible- it is Wembley Arena, after all – and the anthem of the hour was  '10,000 Reasons' by the worship artist Matt Redman. The last time he played it, at the very end of the concert, the roof was raised, phone lights were on, and we were all on our feet – it was an incredible sensation to join in with that euphoria, and it's definitely something I would recommend.
Despite all the fun and music, the festival still carried a poignant message – mostly done through the boat.
The boat in question was a small fishing tug that stood by the stage for about half of the festival. When the tweets (social media was very active) started piling up, asking what the deal with the boat was, they told us. About two years ago, that boat held 36 refugees, as they crossed the Mediterranean in a boat meant for a quarter that. That boat made it. Others didn't. That was what was so memorable about the event – it made a deep impression on us, whilst still being an extremely fun afternoon. And while it was certainly a celebration of faith, it was also a celebration of youth – we came together to celebrate faith and ourselves in a way that didn't stop us from being… us.