Anne Judge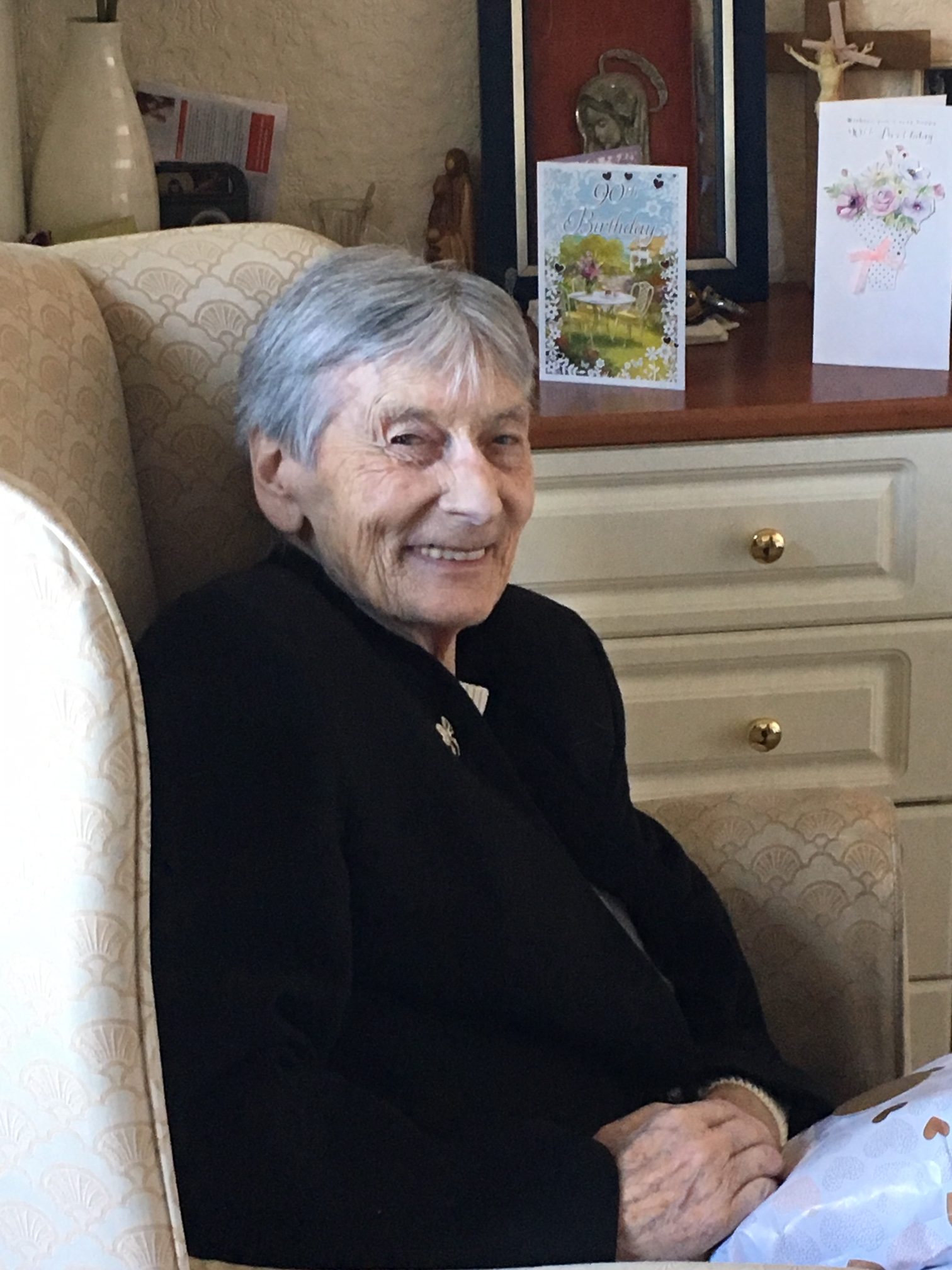 ANNE JUDGE – REFLECTIONS
20th February 1928 – 19th March 2020
Anne was born on the 20th February 1928 in Granard, County Longford in the Republic of Ireland and after a lifetime of loving service, this smiling and gracious servant of God, returned peacefully to the Lord on 19th March 2020.
She was the last of 4 surviving children of Phillip and Margaret Judge, her 3 siblings were all boys: John, whom she nicknamed "Pope John" because of his penchant for offering guidance, Paddy and Tommie.
Anne was orphaned at an early age, her mother dying when she was around 3 years old, and her much older farmer father, not many years later, so she spent much of her childhood in an orphanage run by nuns.
When she was old enough, she worked as a housekeeper to a doctor's family, and then also for the Christian Brothers in Dublin.
However, it was only when she was interviewed in Dublin by Father Paddy Roche, who was looking for a housekeeper, that she moved to Yorkshire to the Leeds Diocese – firstly to be his housekeeper in Heckmondwike and then to the Parish of the Sacred Heart in Ilkley (1977 – 1985), where she served until Father Paddy's retirement. And it was in the Parish of the Sacred Heart that she worked tirelessly with Father Paddy in reordering the church.
On Father Paddy's retirement she continued as his housekeeper until his death, and lived, and welcomed at the 6pm Saturday Mass, in the Parish of SS John Fisher and Thomas More in Burley in Wharfedale,  constantly also visiting the sick and dying – walking and busing many miles in the process.
Then in her final years, when ill health and frailty overtook her she moved in September 2013 to Rosegarth Residential Home in Ilkley, and then when Rosegarth closed in September 2018, to Homecroft in Ilkley until Homecroft's closure in November 2019, when she moved to her final residence, and passed away in the Czajka residential home of Brookfield  in Nab Wood, Shipley.
She was always very grateful to Fiona Downs, and her team of dedicated carers in Rosegarth and Homecroft, and Tracey and her team in Brookfield who cared for her so sympathetically to the end.
She was equally very grateful to the priests, Eucharistic ministers and friends who visited her so regularly, and both Mons. Kieran Heskin and Fr Kieron Walker administered the last sacrament to her – 3 times in total!
By all accounts, she was happiest in West Yorkshire – where she served the Diocese, clergy and lay people, so cheerfully, and was well known to Bishops Wheeler and Konstant, as well as local Lord Mayors who invited her to civic functions. In fact, it was Bishop David Konstant who awarded her a Silver Diocesan medal for devoted service to the Leeds Diocese in May 1987.
When strangers asked about Anne – who she was and what she did – I would very often ask them if they had ever watched Father Ted…..and seen Mrs Doyle? Well Anne was the original Mrs Doyle…but so much more so, as she tirelessly served Fr Paddy, the diocese and countless people.
She would often walk for miles to be with sick and dying people, and this would be regularly, and not just for fleeting visits.
She was one of the most positive people I ever met, and full of Irish charm…..even in her final days still smiling and greeting people with " I am well thank you, but all the better for seeing you".
In her days with Father Paddy, she met many interesting people, as he was the Chaplain to the Ryder Cup and had played with many famous people in the USA, including Bob Hope and Bing Crosby – both of whom Anne entertained in the presbytery in Ilkley….and she very down to earth and matter of fact about this.
She was also very human too and could still surprise!
She had never had a drop of alcohol in her life until Doctor Day said she could either choose to have a sleeping pill or a drop of Irish in her milk at night to help her sleep….Well, she rejected the sleeping pill, and became a fan of a Jameson hot toddy last thing at night.
And in her final years, she always looked forward to her monthly (or thereabouts) trips to St Anne's Cathedral for Saturday lunchtime Mass, and then to Browns for a fish and chips. And the lady in the wheelchair charmed all the waiting staff!
And yes, she was a woman of great faith …. a deep, simple, and enduring faith which served her all her life….and she was always grateful to all who prayed and looked after her.
May the good Lord keep her in his care – and may she rest in peace & rise in glory. Amen
Joe Czternastek    8th April 2020