Youth, family and children's page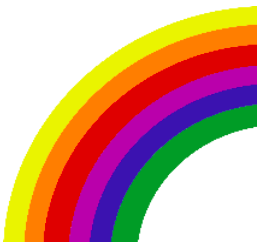 18th Sunday in ordinary time
Hello Everyone, we hope that you are all keeping safe and well. 

We hope you will continue to enjoy reading the Look and ICHTHUS pages each week.
Please see your Look activities pages: Look – 18th Sunday in ordinary time
Some new pages here with some lovely words to help us think about this week's Mass readings & prayers.
Confirmation 2021

A small Parish Church building but a large group of youth members of our Parish Family chose to receive the Sacrament of Confirmation at the end of May.

The photos show Fr Michael having Bishop Marcus's special permission to bestow the sacrament of Confirmation on Year 6 students of the Parish Family and lifelong friends now confirmed as friends forever!

What a splendid choice of Confirmation names …… Anne, Anthony of Padua. Bridget, Cecelia, Christopher, Edward, Frances, Francis, Irene, Mark, Oscar de Romero,  Patrick, Peter, Philomena, Sebastian and Therese;  so many
great saints!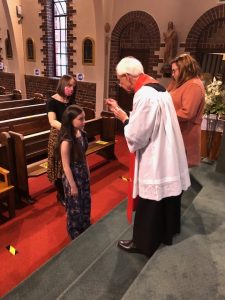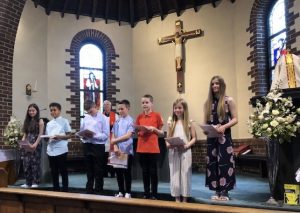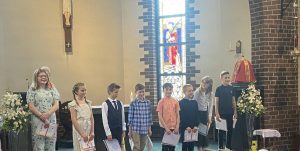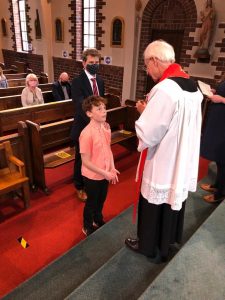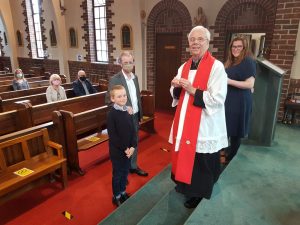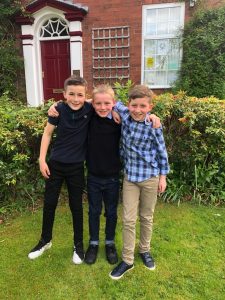 Please keep our children and their parents in your prayers by joining in the Our Father which is the first prayer they are saying together.
THANK YOU to the young person who has built and returned the bird box ready to add to the others in the trees in the Parish gardens. Pop round and have a look!
Sunflower Seedlings
Frances would like you to start bringing back the named sunflowers pop them behind the Planter next to the Hall door; the insects can't wait to visit them!!
The Tree of Life team need a little more help with watering on non-rainy days. Please can you help? There is water and watering can on site.
Frances is the Lead contact frances.atkins@nhs.net. Please send her a message or ring me and I will pass on your details.
Frances always needs bedding plants for replenishing the front bed….
Can you lend a hand with weeding and watering ANYTIME. From 10 minutes to an hour even once a month can change our Parish grounds into a flowering haven for our insects and birds.
This invitation is especially for those who are active and not involved in a Parish family activity. Anyone at Secondary school can also volunteer with their parents. It will be so sad if no-one joins the Parish Family effort with up to one hour a month during good weather. It is outside, it is safe, you choose your own time or, if you wish to make friends, join the group.
Let us all admire the summer planting as it comes into bloom and, as we do remember Pope Francis and his Laudato Si plea to safeguard our beautiful world.
THANK You in anticipation.
Sue
Prayer for the end of the virus
Almighty and merciful Father, who show your love to all your creation
We come before you asking for a quick control of the Coronavirus currently ravaging our world.
Hear graciously the prayers we make for those affected by the virus in various parts of the world.
Grant healing to the sick, eternal life to the dead and consolation to the bereaved families.
We pray that an effective medicine to combat the sickness be speedily found.
We pray for the relevant governments and health authorities that they take appropriate steps for the good of the people.
Look upon us in your mercy and forgive us our failings.
Amen
————————————————————————————————————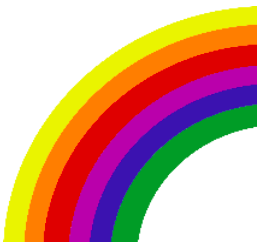 God Bless and stay safe
The children's liturgy leaders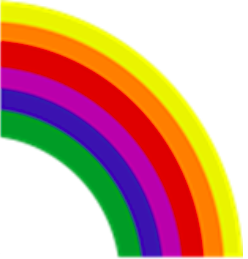 News