Charities
We support several charities, both at parish and individual levels.  Details of how we are doing this are given below.  Please see our CAFOD webpage for further information.
Catholic Care
Catholic Care's care and concern for the disadvantaged, vulnerable and marginalised in society springs from the social teachings of the Catholic Church. It delivers a wide range of services within the Diocese of Leeds, see Catholic Care for further details.  Its mission says 'In everything we do, we strive to show how the teachings of Christian love, charity and justice can shape the way we live together.  We aim to achieve this by taking the caring church into the community and offering practical services and support for anyone who is disadvantaged, vulnerable or marginalised, regardless of their faith.'
Bishop Marcus' March 2017 pastoral letter summarises Catholic Care's work, see Pastoral letter -Catholic Care
All Catholic Care's films can be found at  https://www.youtube.com/channel/UCRQVews00CP390BVmPGhyUQ
The Facebook page is https://www.facebook.com/catholiccareleeds
Mary's Meals
Mary's Meals vision is that every child receives one daily meal in their place of education and that all those who have more than they need, share with those who lack even the most basic things.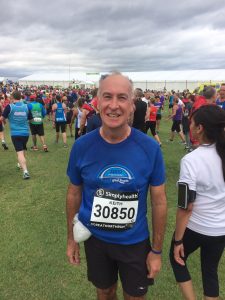 In September 2017 the parish, family and friends sponsored Keith running for Mary's Meals in the Great North Run.  We raised £205 in our cake sale and over £1,000 from parish and online donations.  Many thanks!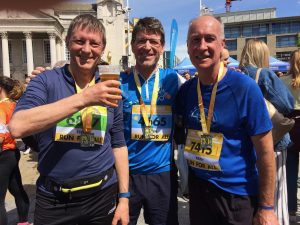 Once again fantastic support from the parish, families and friends for Brendan, Chris and Keith, raising over £2,600.  We ran for Mary's Meals in the May 2018 Leeds half marathon.
In summer 2017 we collected teaspoons and hand towels that were included in over 115 backpacks for children in Malawi.  See the letter of thanks from Mary's Meals and photos of the backpacks being collected and being transported for delivery. backpackthanksfromMM
At Easter 2018 the total number of backpacks sent to Malawi and also to Liberia was over 300.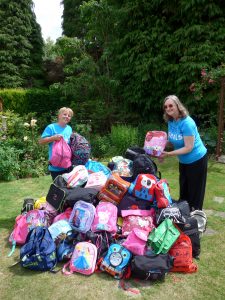 Krzysia and June loading the backpacks.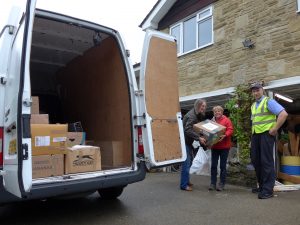 PAFRAS
works with refugees, asylum seekers and the wider community to counter the effects of enforced destitution on vulnerable migrants.  Its work has three main strands:
– providing immediate humanitarian relief
– long-term support, advice and advocacy aimed at assisting service users to make lasting improvements to their situations
– raising awareness and campaigning locally and nationally on issues affecting our service users
Parishioners support this work by donating and delivering non perishable food items and toiletries.  We have a collection point in the main foyer of the church and all items are taken each month to the PAFRAS centre in Leeds.  For more information please contact Marie Straw.