Diocesan news & events


You can read this month's Justice & Peace Commission's newsletter here, it includes
* Work our parish is doing to respond to Pope Francis' message in Laudato Si'
* A major reflection about a 'Just' Wage or 'family wage' from moral theologian Dr. Ann Marie Mealey of Leeds Trinity University
*Update from our Climate Crisis Action Group
* An example of campaigning in a time of lockdown
…and more to keep you interested and active.
Live streaming of Mass from Leeds Cathedral 
The live-streaming of the 11 am Sunday Mass will continue each week whilst the celebration of public Masses is suspended.  To participate online, please access the following new YouTube channel which will be live from Sunday: www.leedscathedrallive.org.uk  and may also be accessed via a link embedded on the Cathedral's home page:  https://www.dioceseofleeds.org.uk/cathedral
Catholic Care – Thank you!
Bishop Marcus writes to thank Catholic Care for all its work providing help and support in our diocese.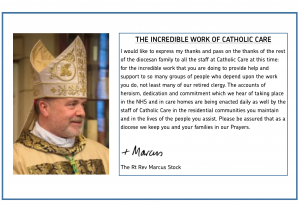 Please see here  'A People who Hope in Christ', a message issued from the Metropolitan Archbishops of the Catholic Church in England and Wales.
LEEDS DIOCESAN SINGLE CATHOLICS meet every first Friday of the month in an upper room at Trinity Church Boar Lane, Leeds for prayers and refreshments, discussion and occasional events such as meals out or walks. We are primarily a social group, open in principle to any single catholic over 18 although our actual age range is currently 40 – 70yrs. If you would like to join us, you would be very welcome. Contact Robert 07900 473955 or email: leedssinglecatholics@googlemail.com.
CONFIDENTIAL, EXPERT, MARRIAGE RELATIONSHIP SUPPORT from Marriage Care. Marriage is an enduring commitment to love, but knowing how to keep love alive for life is not always easy or straightforward. The best relationship help for couples in difficulties is provided by Marriage Care which aims to be open to all irrespective of ability to pay. Contacts:  MarriageCare atwww.marriagecare.org.uk
FREEPHONE:   0800 389 3801
TIME TO TALK: Do you need a listening ear? Most of us need a little time to talk things over. Come along on Fridays 1:30pm-3:30pm at Blessed John Henry Newman Centre, Station Road, Cross Gates and Tuesdays 7-8pm Dial house, 12 Chapel St, Leeds LS15 7RW and talk to one of our trained listeners in a confidential space.
Events
SETTLED STATUS FOR EU NATIONALS: Following Brexit, parishioners from EU countries may need to register for Settled Status, even if you have been resident in the UK for many years. You have until 31st December 2020 to do so. If you are not sure whether you need to apply, you can check online at gov.uk/eu-settled-status. St Vincent's, Leeds and CHAS@St Vincent's Bradford are able to advise and assist.
HARBOUR: PRAYER GROUP – St Pio Friary, 7pm-9pm, Fridays: there is an adults' prayer group run by the Franciscan Friars of the Renewal every Friday at St Pio Friary, 1 Sedgefield Terrace, Bradford BD1 2RU from 7pm-9pm. Teas and coffees are available from 7pm-7.30pm and then there is praise and worship, opportunity for prayer and fruitful sharing. Everyone is welcome. Follow @StPioFriary on Facebook for more information.
Vacancies
BLESSED CHRISTOPHER WHARTON CATHOLIC ACADEMY TRUST seeks to appoint an interim CEO. For more information contact Ray Lloyd, Chair of BCWCAT on 0113 2837104 orray.loyd@leedstrinity.ac.uk.
DEPUTY DIRECTOR OF EDUCATION: The Vicariate for Education seeks to appoint a full time Deputy Director of Education for September 2020. Please contact angela.wicken@dioceseofleeds.org.uk or education.admin@dioceseofleeds.org.uk for further information.
DAYTIME/EVENING VOLUNTEERS NEEDED: The SVP need more van drivers and drivers mates in Leeds and Bradford to  enable them to collect donated furniture for those in need or for sale in their Community Shops. The furniture will be used to support the SVP's work for families in need.  Do you think you can spare some time to help?  For Leeds, Please contact Julie Milner 0113 2450800.  For Bradford, Please contact Annette Haigh on 01274 726790.
News
Anne Judge
ANNE JUDGE – REFLECTIONS 20th February 1928 – 19th March 2020 Anne was born on the 20th February 1928 in Granard, County Longford in the Republic of Ireland and after a lifetime of loving service, this smiling and gracious servant of God, returned peacefully to the Lord on 19th March 2020. She was the last […]
Parish Family Events
Today was the Feast of the Baptism of Our Lord and the children spent time finding out about the Sacrament of Baptism, which most of them received when they were too young to remember !! Robyn the baby doll proved the perfect baptismal candidate.
Sacrament of Reconciliation 2019
Eleven younger members of the Parish Family made their First Confession on Saturday 23rd March. Canon Michael thought them the best group ever! The children told their Catechist James, helped by Gabby and other parents, they had had a lot of fun in their preparation sessions. After receiving the Sacrament the celebrations continued in the […]
Christmas vigil mass for children
The mass was directed at our children, our young parishioners did the readings and the bidding prayers. Children read the Gospel story whilst others gathered on the altar steps when their part was mentioned. We had Mary and Joseph, lots of lovely angels, shepherds and lambs—plus the kings. Fr Michael blessed the crib and then […]
Special mass for altar servers
On 21st September Bishop Marcus celebrated a special mass for the altar servers of the diocese. About 80 attended with their families. 3 of our servers represented our parish family. Bishop Marcus thanked the servers for their loyal service to God.  It was a wonderful way to show the servers how important they are to us all.
Parish family walk 2019
A very happy and chatty bunch gathered after the 'Back to School' 11am Mass  for a picnic in the Parish Hall.  Next a short walk led by Martin, was enjoyed by all from 2 years old to where "80 years young" has been celebrated!!  As the walkers ran back across the car park  the heavens opened!  […]