Diocesan news, Justice & Peace
Justice & Peace Commission

You can read the Justice & Peace Commission's May 2020 newsletter here, it includes work our parish is doing to respond to Pope Francis' message in Laudato Si'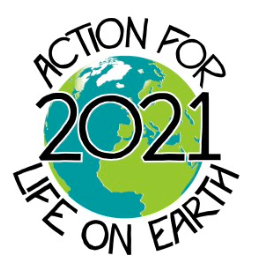 The J&P July 2021 newsletter can be found here, it includes:
News from this year's Annual National Justice & Peace Conference
Leeds J&P's Vice Chair on meeting her MP
Upcoming events for the Season of Creation and how you/your parish can get involved.
Clear Running Water?
An hour of reflection and prayer to recognise God's presence in the beauty of Creation and a call to harness the energy of the Holy Spirit to live more sustainably within our Common Home and to encourage others to do the same.
Tuesday 7th September 2021 @ 7:30pm
Register via Eventbrite to receive a link:
                                 https://tinyurl.com/leedsjpcreation1
Pentecost
Bishop Marcus' Pastoral Letter for Pentecost talks about the role we all have a part to play in the routines, choices and decisions of our everyday lives and our aspirations for the future.  We have either been ignorant of, or ignored, the systematic exploitation of our planet and the unsustainable consumption of its resources.  Bishop Marcus asks us to "keep this Feast with that enduring hope that we can begin to repair the damage we have done and provide a healthy home for future generations."
During Lent we joined a series of reflective evenings with inspiring speakers, prayer and discussion, using the film-based resource "Global Healing".  These engaging documentaries informed and challenged us to take action to respond to Pope Francis' call to Care for Our Common Home.  Recordings of the sessions can now be accessed here: https://www.youtube.com/watch?v=QhBIwXxBhHA&feature=youtu.be
Handouts
prepared by the Laudato Si' animators with lots of helpful information, prayers and links to aid further reflection for the sessions are available below
The Global Healing Documentaries are produced by CaFE (Catholic Faith Exploration) on behalf of the Bishops' Conference of England & Wales. They are film-based events for parishes, groups and individuals. They will inform, challenge and equip us to engage with Pope Francis' vital call to Care For Our Common Home. These events begin with a shared meal followed by film clips including well-known experts, engaging testimonies and on-location filming from around the UK. There are times for discussion & prayer to help stir deeper ecological conversion and fresh practical responses. They can be accessed here: https://www.cbcew.org.uk/home/our-work/environment/global-healing/global-healing-films/ and here: https://faithcafe.org/pages/ourcommonhome  
CONFIDENTIAL, EXPERT, MARRIAGE RELATIONSHIP SUPPORT from Marriage Care. Marriage is an enduring commitment to love, but knowing how to keep love alive for life is not always easy or straightforward. The best relationship help for couples in difficulties is provided by Marriage Care which aims to be open to all irrespective of ability to pay. Contacts:  MarriageCare atwww.marriagecare.org.uk
FREEPHONE:   0800 389 3801
Events
Vacancies
Sacred Heart school Ilkley is looking for 2 inspirational, experienced teachers for September 2021. The teaching posts are for 2 days a week in Y5 and a full-time position in our Y3/4 class. Please see the advert and documents on the school website, www.sacredheartilkley.org<https://eu-west- 1.protection.sophos.com?d=sacredheartilkle y.org&u=d3d3LnNhY3JlZGhlYXJ0aWxrbGV 5Lm9yZw==&i=NWNmNjM5Zjk2M2EzYmM xNDI0YzEyMTMz&t=NVg2MHB2VmpLVVF QWXRZM3BvRklTbzdmd2x3MVF1Q1Bib1h VRjZxM3dDcz0=&h=d9c72b080f434dcb971 c12f77ef97d36>
News
Janet & Kevin's new solar panels
The Crottys are over the moon with their new addition to the garage and house roofs and would like to offer a short explanation as to why we decided to purchase our solar panels. So here we go dear readers! Firstly the time to reflect that lockdown has prompted, twinned with the increased concern, awareness and […]
Under the Gaze of God
Fr David Williams C.P. (who lives in Otley) has written a book which may be of interest to our parishioners.  It is available from Amazon books.
Fr Michael – "A Golden Priest"
Fr Michael – "A Golden Priest" We at SS John Fisher and Thomas More are one of the lucky ones. We have the privilege and joy of celebrating a priest's Golden Jubilee. Congratulations Fr Michael! Fr Michael as an altar boy at St Patrick's,            Fr Michael at his Ordination Mass […]
A poem to celebrate Fr Michael's golden jubilee
From Us to You The Lord asked you to follow Him and serve with grace and love To minister to those in need of blessings from above To watch His flock and guide us and to teach us how to pray To understand the Gospels and to follow in His way This task accepted graciously […]
Youth take part in Father Michael's Golden Jubilee Mass celebration
At Mass, on Sunday 7th March at SS John Fisher & Thomas More church Burley-in-Wharfedale, we gave thanks for and celebrated the Golden Jubilee of a Golden priest. Exactly 50 years ago, Father Michael Mahady was ordained a priest at St Patrick's Church, Leeds on a wet Sunday in Lent. Father Michael celebrated his Golden […]
Catholic Care – Annual Review
Catholic Care's 2020 annual review has been published, you can read it here.  This is Bishop Marcus' summary of its amazing work. "Despite all the phenomenal challenges and restrictions of the last year, the leadership, staff and volunteers of Catholic Care have diligently continued to provide an outstanding range of services and support to people […]