Diocesan news & events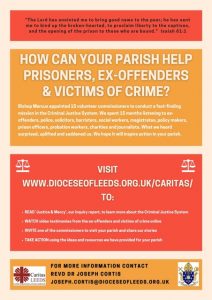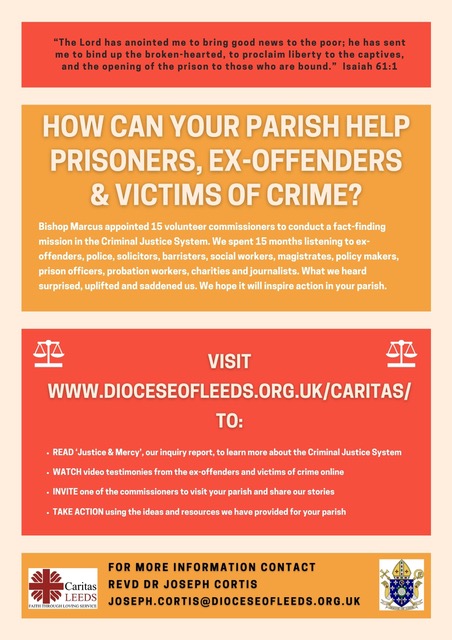 Bishop Marcus has sent us a Pastoral Letter for this Sunday, a day of prayer for prisoners and their families. It is aimed to raise awareness about the criminal justice system and explore different approaches to Restorative Justice.  We can read Bishop Marcus' letter here.
In his letter he speaks about the Caritas Leeds Criminal Justice Inquiry, a ground-breaking project led by fifteen Catholic Commissioners. Then a week later, on Monday 19th of October at 2.00pm, he will launch the publication of the report produced by the inquiry: "Justice and Mercy". This event will be presented live online, via: www.leedscathedrallive.org.uk
Bishop Marcus is hoping that many individuals and parish groups will consider becoming involved in this work and mission. For more information go to the Caritas Leeds website: www.dioceseofleeds.org.uk/caritas/criminal-justice-forum/

You can read the Justice & Peace Commission's May newsletter here, it includes work our parish is doing to respond to Pope Francis' message in Laudato Si'
The October newsletter can be found here, it includes:
-Prayer and Reflection in an Online World
-Onion, A Reflection by David Jackson for J&P's season of Creation Liturgy
-SPARK Social Justice Project Update
-J&P Sponsor Film at Palestinian Film Festival
Live streaming of Mass from Leeds Cathedral 
The live-streaming of the 11 am Sunday Mass will continue each week.  To participate online, please access the following new YouTube channel which will be live from Sunday: www.leedscathedrallive.org.uk  and may also be accessed via a link embedded on the Cathedral's home page:  https://www.dioceseofleeds.org.uk/cathedral
Catholic Care – Thank you!
Bishop Marcus writes to thank Catholic Care for all its work providing help and support in our diocese.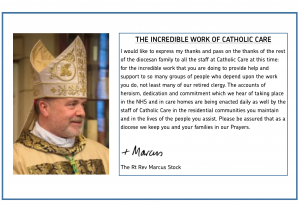 Please see here  'A People who Hope in Christ',a message issued from the Metropolitan Archbishops of the Catholic Church in England and Wales.
LEEDS DIOCESAN SINGLE CATHOLICS meet every first Friday of the month in an upper room at Trinity Church Boar Lane, Leeds for prayers and refreshments, discussion and occasional events such as meals out or walks. We are primarily a social group, open in principle to any single catholic over 18 although our actual age range is currently 40 – 70yrs. If you would like to join us, you would be very welcome. Contact Robert 07900 473955 or email: leedssinglecatholics@googlemail.com.
CONFIDENTIAL, EXPERT, MARRIAGE RELATIONSHIP SUPPORT from Marriage Care. Marriage is an enduring commitment to love, but knowing how to keep love alive for life is not always easy or straightforward. The best relationship help for couples in difficulties is provided by Marriage Care which aims to be open to all irrespective of ability to pay. Contacts:  MarriageCare atwww.marriagecare.org.uk
FREEPHONE:   0800 389 3801
Events
SETTLED STATUS FOR EU NATIONALS: Following Brexit, parishioners from EU countries may need to register for Settled Status, even if you have been resident in the UK for many years. You have until 31st December 2020 to do so. If you are not sure whether you need to apply, you can check online at gov.uk/eu-settled-status. St Vincent's, Leeds and CHAS@St Vincent's Bradford are able to advise and assist.
HARBOUR: PRAYER GROUP – St Pio Friary, 7pm-9pm, Fridays: there is an adults' prayer group run by the Franciscan Friars of the Renewal every Friday at St Pio Friary, 1 Sedgefield Terrace, Bradford BD1 2RU from 7pm-9pm. Teas and coffees are available from 7pm-7.30pm and then there is praise and worship, opportunity for prayer and fruitful sharing. Everyone is welcome. Follow @StPioFriary on Facebook for more information.
Vacancies
TEACHING ASSISTANT WITH LUNCHTIME SUPERVISION – Ss Peter & Paul Catholic primary school,  Yeadon.  Please find details of this vacancy here.  Closing Date: Monday 19 October 2020, 12 noon
DAYTIME/EVENING VOLUNTEERS NEEDED: The SVP need more van drivers and drivers mates in Leeds and Bradford to  enable them to collect donated furniture for those in need or for sale in their Community Shops. The furniture will be used to support the SVP's work for families in need.  Do you think you can spare some time to help?  For Leeds, Please contact Julie Milner 0113 2450800.  For Bradford, Please contact Annette Haigh on 01274 726790.
News
Pastoral Letter from Bishop Marcus
Bishop Marcus has sent us a Pastoral Letter for this Sunday, day of prayer for prisoners and their families. It is aimed to raise awareness about the criminal justice system and explore different approaches to Restorative Justice.  Please see our Diocesan news & events page for more information. We can read Bishop Marcus' letter here and […]
Changes to our church
You will see from these photos the layout of the benches has had to be changed in order to ensure distancing of 2m. • in the lady chapel we have individual seats and these should NOT be moved • if the Mass you want is full, you may be able to choose one of the other […]
Volunteer stewards THANK YOU
Thank you and well done to all the Stewards, Cleaners and Organisers of the Church and its services over the last few weeks. You have been doing a great job keeping our Parishioners as safe and protected as you can. Many of you will be away with your families over the next few weeks. Travel […]
Please remember the people of Tereli in your prayers
On Tuesday 21st April, the village was attacked by as many as 300 well-armed bandits who arrived on motorbikes to loot the village and take all of the cattle. For three hours a few young people tried to hold them off with hunting rifles, while others hid in their houses or fled to the caves […]
Parish Offertory
If you would like to, and only if your circumstances allow, you can now make a donation to the Parish Offertory, either by this online page: https://donor.secure-operations.com/detailed/donate?charity_id=1086222&type=2&reference=10154&amount= or, to contribute £5, please text CHURCH SSFM to 70500
Leeds Cathedral live-streaming of Mass & devotions
Mass is being live-streamed on Sundays at 11:00am.  Weekday Masses Monday to Friday are now live-streamed usually at 12:30pm (12noon on Saturdays) and preceded by the Angelus and Rosary which will be prayed at 11:50am (11:20am on Saturdays).  To participate online, please access the Leeds Cathedral Live YouTube channel www.leedscathedrallive.org.uk where the words of Prayers, […]