A Brief History
In post-reformation times, there were very small numbers of recusant Catholics in the village of Burley-in-Wharfedale. In fact, in 1614, there were only five. The intermittent but punitive fines imposed on the Catholic gentry prevented a general resurgence of Catholicism in the North of England, despite the efforts of the seminary priests, Jesuits and Benedictines. However in the 1700s, a Benedictine mission at Myddelton Lodge in nearby Ilkley became a local centre of growth. In 1791, the position was improved by the Relief Act, and the Emancipation Act of 1829 finally gave Roman Catholics full recognition under the law. Numbers in England then increased both as a result of these legal changes and increasing immigration from Ireland.
By the early 1900s, the problem became one of providing sufficient numbers of churches and priests to cater for the increasing numbers of Catholic faithful. A single church in nearby Otley served an area of 90 square miles, including not only many separate towns and villages, but also three major hospitals that were established in the area to take advantage of the healthy rural air.
In 1930, a separate parish for Burley-in-Wharfedale and Menston was proposed, and the land for a church and house was bought. The bulk of the funding came from a retired civil servant living in Burley, a Mr. Frederick Le Fevre. The new church was consecrated in 1932, the first Parish priest being the selfsame but recently-ordained Frederick, now Father Le Fevre. It was the first church in England to be dedicated to the martyrs Thomas More and John Fisher, who were canonised three years later. The Parish Hall was added in 1936.  A yearbook from 1938 can be found here: Yearbook 1938
By the 1980s, SS John Fisher and Thomas More had become a thriving centre of worship for the Catholic population of the district. Not surprisingly, it was showing the effects of this usage and the general passage of time. In the late '80s, a major restoration was carried out. Much of the fabric was renewed, a new foyer and passageway to the hall were added, and the layout was rearranged to cater for the liturgical requirements of Vatican Council II. The church and new altar were consecrated in October 1989.
Our Parish Priests
1932-1940 Frederick Le Fevre
1940-1952 Frederick Joseph Mawson
1952-1960 Thomas A. Molony
1960-1987 Dermott Scannell
1987-1993 Barrie Holmes
1993-1998 John S. Aveyard
1998-2006 Anthony Bernard Boylan
2006-2013 Joseph Smith
2013-2017 priests in residence: Malachy Larkin, Nigel Polland, Simon Wynn
2017 Michael Mahady
Two parishioners have been ordained to the priesthood: Mark Jarmuz (27th July 1990) and Paul Grogan (16th July 1994)
Over the years the parish has been served by a number of assistant priests including Patrick Roche (who served under Fr Le Fevre); Francis Blanchfield (1952-1955); Edward Horkin (1955-1960) and John MacMahon (1984-1987). In addition, Fr V.L.Chacko ("your little brother") from Kusudia in India assisted for periods whilst Fr Barrie Holmes was at this parish. For many years the parish was served by Rev. Patrick Kenny who was ordained a deacon on 7th December 1978.
In the 21st Century, the Church continues to serve the local population in Burley-in-Wharfedale and Menston, and continues to change to meet our needs for worship and companionship.
A Special Night in the Wharfedale Deanery
On 9th November 2017 Bishop Marcus celebrated the induction Mass for Fr Michael.  It was a splendid occasion, here is Bishop Marcus' homily and a link to the Leeds diocese website for Clodagh's account of the evening – Fr Michael's induction Mass.  Here are photos of the evening.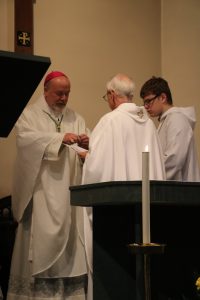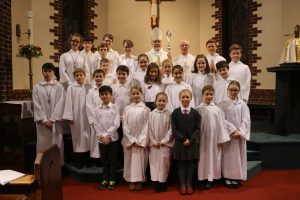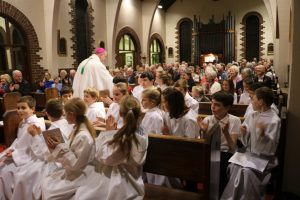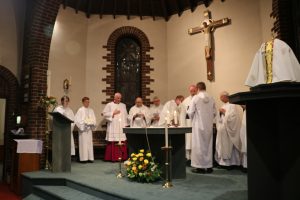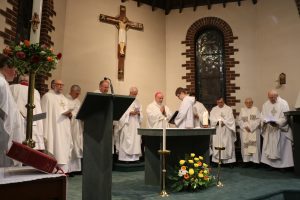 New Organ
Bishop Marcus blessed our new electronic organ during his visit to the parish over the weekend of 25 February 2018.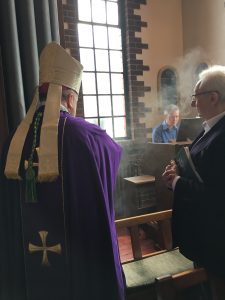 All of our organists have enjoyed playing the new instrument very much!  Here is John and Stella.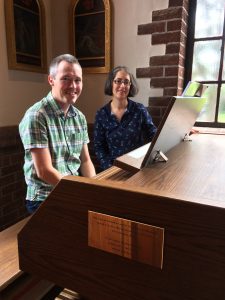 On Friday 8th March 2018 we celebrated Women's World Day of Prayer. More details of WWDP can be found here.

News
Thank you Fr Michael
A Wonderful Weekend What a wonderful weekend our Parish Family enjoyed. So many people came to celebrate Mass together. On Saturday evening we gathered after Mass for the blessing prayers for the newly installed defibrator. On Sunday a Mass we welcomed Josephine and Colin with their family to give thanks to the Lord for their […]
New fruit trees
In December 2022 Frances and Keith bought two fruit trees, an apple and a Victoria plum, a bag of soil conditioner and stakes to hold the trees in position.  Mike and Keith dug out two holes in the garden (they are to the left of the presbytery) and placed the trees (still in their pots) […]
Fr Barrie Holmes
With great sadness I have to let you know that Fr Barrie Holmes died in St Gemma's Hospice on the evening of Friday 19th November. He was our Parish Priest for some very special years. It was he who re-ordered our lovely Church, and help make it the lovely place / centre we all love. […]
Pope Francis' on Thought for the Day for climate change
Dear BBC listeners, Good Morning. "Climate change and the Covid-19 pandemic have exposed our deep vulnerability and raised numerous doubts and concerns about our economic systems and the way we organise our societies. "We have lost our sense of security and are experiencing a sense of powerlessness and loss of control over our lives. "We […]
Bug Hotel
We have built a bug hotel from an old wooden pallet, a milk crate and some unused fencing panels.  We gave it a new roof and covered it with roofing felt to make it last a long time.  It is in place and now open for visitors!  Our children will be filling it soon with […]
Jack's hedgehog hotel
Jack and his grandad John have teamed up to build an amazing hedgehog hotel for their holiday project. Jack cut the tunnel and legs to size, he then drilled, glued and screwed the box and tunnel together leaving grandad to cover the box and fit the lid.  The hotel is now in the Parish garden […]