Tree of Life
Our world, our parish
Although our lives are being affected by the need to isolate, it does give us an opportunity to think about the things we value most. It also asks us how can we start to change what we do in our lives to better protect and enhance our beautiful, but fragile world. 

Laudato Si'
On 24th May 2015 Pope Francis signed his landmark encyclical Laudato Si': On the Care of Our Common Home, it can be read here. A whole year of prayer and special intentions has begun. This is a great encouragement for us, in our Parish Family, to continue the work and projects we have begun.
We have created this page to provide suggestions, summaries of what we are doing now and also a place where we can share details and ideas.  Please let us have your suggestions for us to show how we are responding to Laudato Si' and make this a great and rewarding journey for us all. Do send these to  Tol.ssfishermore@gmail.com
Environmental Policy
You can read the Diocese of Leeds' Environmental Policy here. 
What we are doing
Please see the progress we made in 2020 in our parish project in the Tree of life – Work with nature News item.
2021 programme
Bird & bat boxes
CHILDREN please could you ask your parents if you could bring back to church any Bird boxes you made and have not put up in your own garden. Put your initials on them somewhere so you can watch when a bird nests in your box in the back garden of the church.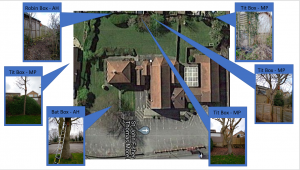 Loraine has done a fantastic job in planning, preparing and putting up the bird and bat boxes we have already on the trees in the church grounds.  Hopefully we will have a few more to put up when we can arrange for some of the children who made them, to put theirs up too.  Here's Loraine's message:

"Easter is the time to celebrate Hope, Renewal and New Life
So, we Hope that you take the time to see the Renewal of our church garden and keep a watch out for New Life in the bird houses and bat boxes in the trees.
"At the first signs of Spring, some of the bird houses and bat boxes that our children put together at the end of last year have been put up. The poster shows the bird's-eye-view of locations.
We will be adding more boxes during the year and will update you with a new plan.
"The different houses are needed for different species:
Open fronted nest box – Robins, Wrens and Pied Wagtails
Bird House, 24mm doorway – small tit species such as Blue Tit, Coal Tit and Marsh Tit
Bird House, 28mm doorway – bigger species such as Great Tit, Crested Tits, Tree Sparrows and Pied Flycatchers
Bat House – Pipistrelle
Spring bulbs
The bulbs we planted last year are here!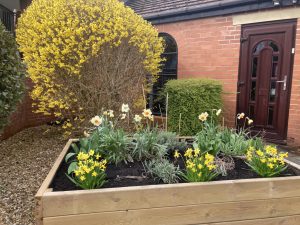 Compost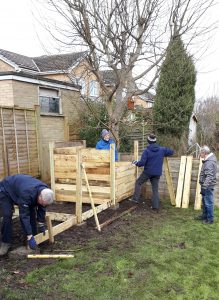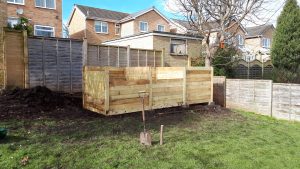 We've bought and built a triple composter!  This will be for grass cuttings, flowers and raw fruit & veg kitchen waste.  We will use the compost for flower beds and other areas in the church gardens.
CAFOD's Livesimply award
We plan to apply to CAFOD's Livesimply award, this is an opportunity to respond to Pope Francis' invitation to "work with generosity and tenderness in protecting this world which God has entrusted to us". This is awarded to communities who can show how they have been living:
• simply
• in solidarity with people in poverty, and
• sustainably with creation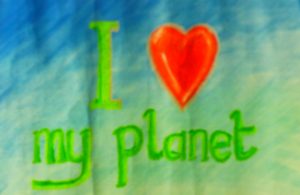 We are working with the diocese's Justice & Peace climate change group to promote and share ideas, see https://www.leedsjp.org.uk/campaigns/climate-change/  for lots of information.
News