Youth take part in Father Michael's Golden Jubilee Mass celebration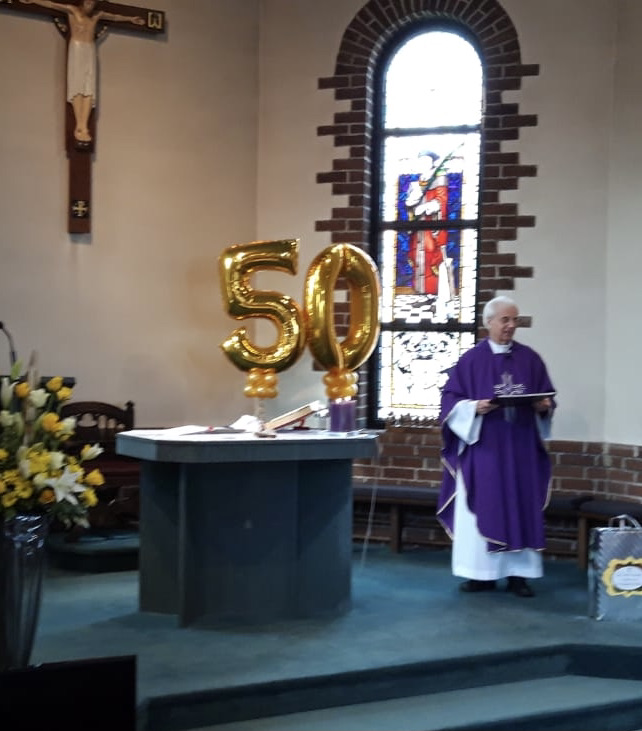 At Mass, on Sunday 7th March at SS John Fisher & Thomas More church Burley-in-Wharfedale, we gave thanks for and celebrated the Golden Jubilee of a Golden priest. Exactly 50 years ago, Father Michael Mahady was ordained a priest at St Patrick's Church, Leeds on a wet Sunday in Lent. Father Michael celebrated his Golden Jubilee on a sunny Spring morning in the company of his Family and members of the Parish Family including students of St. Mary's.
Many of you will know Father Michael as he has served at St Joseph's Huddersfield; St Mary's, Selby; St Joseph's, Bradford; Sacred Heart, Sowerby Bridge; ss Peter and Paul's Wakefield; St Francis, Morley; St Columba's and St Malachy's, Halifax and now as Parish Priest at ss John Fisher & Thomas More he has come to know and love the Students and Staff of St. Mary's.
Father Michael is well-known for his sense of humour, love of Leeds United and other sports especially Cricket and Golf. He always finishes his Week-end masses with a joke and during Lock- down this has continued as a Sunday Message which can be found in the Parish Bulletin, on the Church's website.
On Sunday, after Mass Father Michael made very special mention of the Young People who had attended his Golden Jubilee Mass; he was so very happy they were taking such a full part, reading, helping with presentations and technical support. As a Parish we would like to thank Dale, Emily, Harriet and Rory for their generous service and smiles on many occasions.
After Mass we presented Father Michael with a Golden Jubilee Album full of messages, cards, drawings and photographs; together with love and thanks and all his special care and advice. As you know Father Michael is a great friend, advisor and wonderful to all he meets; Sacred Heart school children had made a booklet of messages using their hand and IT skills and our final gift was a Golden envelope!  We hope one sunny day in the Summer to celebrate with the great party Father Michael deserves and we look forward to seeing many Young People with us.
More about the Golden Jubilee celebration will be on the parish website by next weekend.
Sue Rix Chair of Pastoral Parish Council.