Welcome to St John Fisher & St Thomas More Roman Catholic Church
Whether you are a regular parishioner, new to the parish, returning to the Church, a visitor, or perhaps just interested in what we do, our parish community extends a very warm welcome – through the pages of this website – to you all.  St John Fisher & St Thomas More Catholic Church is situated between the villages of Burley in Wharfedale and Menston, our address is Bradford Road, Burley in Wharfedale, LS29 7PX.
You can read News items, weekly messages from Fr Michael and from Sue, our parish council chair, and download the latest bulletins.  Please see our Youth, family & Children's Liturgy page – it shares some thoughts and activities for our children and their families – and our Tree of Life page – on how we are responding to Pope Francis' message in Laudato Si', and his call to pray and work as a whole church, encouraging us to do more to care for creation.  Find out more here what our parish is doing.
Fr Michael is currently unable to say Mass.  This weekend, 15 & 16 January, it has been arranged for Fr Tom O'Connor to say the Saturday 6pm and Sunday 9am Masses and Fr Walsh to say the Sunday 11am Mass. ALL weekday Masses next week including next Saturday's morning Mass have been cancelled.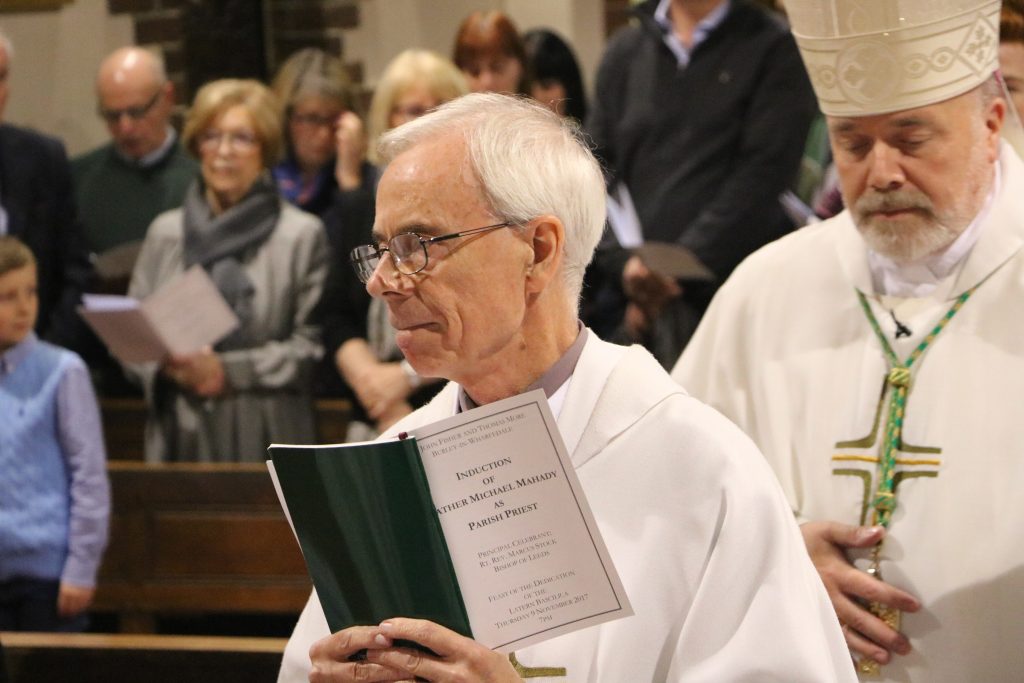 A message from Fr Michael: PEACE SUNDAY A Prayer for Peace
Lord Jesus Christ through your Holy Spirit you bind together in one body and unite in one love your holy people. May the various gifts he pours out on us make us build up in peace a Church that knows how to love and serve until you give us the peace and joy that lasts for ever and ever. Amen
Fr Michael
Pope Francis' message for COP26
In a message recorded for the BBC's 
Thought for the Day programme
, Pope Francis has called on world leaders meeting next week at the UN Climate conference in Glasgow (COP26) to provide "effective responses" to the environment emergency and offer "concrete hope" to future generations.  You can hear Pope Francis' message and more information here:  
https://www.bbc.co.uk/news/world-europe-59075041
or read the message
here
.
Confirmation 2021
A small Parish Church building but a large group of youth members of our Parish Family chose to receive the Sacrament of Confirmation at the end of May.
The photos show Fr Michael having Bishop Marcus's special permission to bestow the sacrament of Confirmation on Year 6 students of the Parish Family and lifelong friends now confirmed as friends forever!
What a splendid choice of Confirmation names …… Anne, Anthony of Padua. Bridget, Cecelia, Christopher, Edward, Frances, Francis, Irene, Mark, Oscar de Romero,  Patrick, Peter, Philomena, Sebastian and Therese;  so many great saints!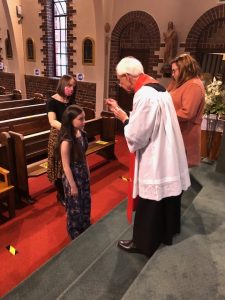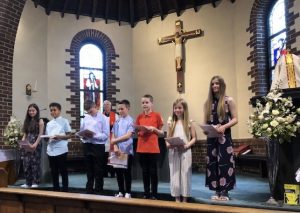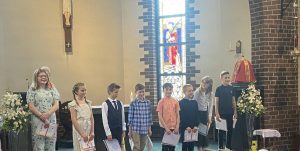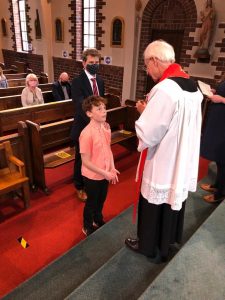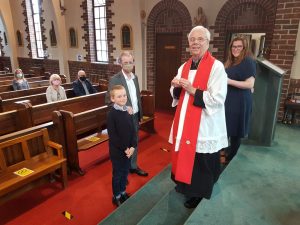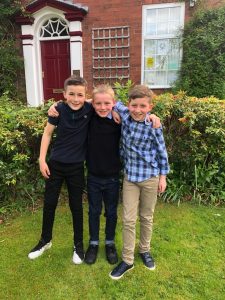 Pentecost
Bishop Marcus' Pastoral Letter for Pentecost talks about the role we all have a part to play in the routines, choices and decisions of our everyday lives and our aspirations for the future.  We have either been ignorant of, or ignored, the systematic exploitation of our planet and the unsustainable consumption of its resources.  Bishop Marcus asks us to "keep this Feast with that enduring hope that we can begin to repair the damage we have done and provide a healthy home for future generations."
Novena on the Care of Creation
We are invited to respond in prayer and action to the urgent climate change issues that we all face. The God Who Speaks team offers this Novena of readings and prayers drawn from the Bible and recent Papal teaching.  Between Ascension and Pentecost, the Scriptures tell us: "All these with one accord were devoting themselves to prayer together with the women and Mary the mother of Jesus, and his brothers…" (Acts 1:14) while they awaited to be "clothed with power from on high." (Luke 24:49).
Diocesan Justice & Peace Commission
You can read this month's newsletter on our Diocesan news & events page.