Welcome to St John Fisher & St Thomas More Roman Catholic Church
Whether you are a regular parishioner, new to the parish, returning to the Church, a visitor, or perhaps just interested in what we do, our parish community extends a very warm welcome – through the pages of this website – to you all.  St John Fisher & St Thomas More Catholic Church is situated between the villages of Burley in Wharfedale and Menston, our address is Bradford Road, Burley in Wharfedale, LS29 7PX.
You can read News items, weekly messages from Fr Michael and from Sue, our parish council chair and download the latest bulletins.  Please see our Youth, family & Children's Liturgy page – it shares some thoughts and activities for our children and their families – and our Tree of Life page – on how we are responding to Pope Francis' message in Laudato Si', and his call to pray and work as a whole church, encouraging us to do more to care for creation.  Find out more here what our parish is doing.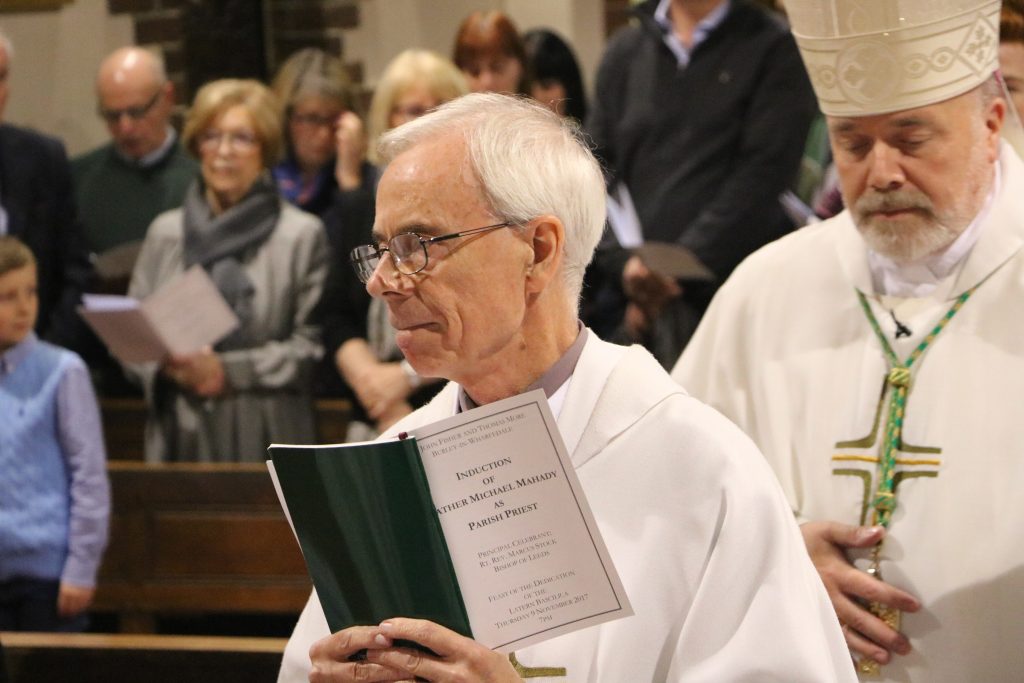 A message from Fr Michael:
No Greater Love… (Today's Gospel Jn 14 15-21)
The Gospel at Mass today reminds each one of us of the commandment that Jesus left his disciples: "Love one another as I have loved you." The scriptures also remind us of that so important truth that it was God who first loved us. As we give thanks for God's love for us, our response to that love is to love one another.
Fr Michael
Attending Mass
Our church reopened for public Masses on Monday 1st March.  You will be able to register here to attend Mass at weekends, it allows individuals, families and groups to secure seats at Mass.  The system helps to ensure the safety of parishioners and allow us to reduce the risk of infection from COVID-19. The registration simply involves selecting a date on which you would like to attend one of the 4 weekend Masses. It will also prove to be a useful tool which will help our stewards to co-ordinate visits safely on arrival. Please note you will need to bring and wear a mask when attending Mass.  Details for booking tickets are as follows:
individuals, or families of 2 sitting together, will require one ticket
families of 3 or 4 will require two tickets
any more than 4 members in a family will require further tickets and will be seated in a separate bench
please select the number of tickets at the top right-hand corner of the registration page
If for any reason you are unable to use the system, you can register by phoning the parish office: 01943 863179.
Diocesan Justice & Peace Commission
You can read this month's newsletter on our Diocesan news & events page.
This Lent, we are invited to join a series of reflective evenings with inspiring speakers, prayer and discussion, using the film-based resource "Global Healing".  These engaging documentaries will inform and challenge us to take action to respond to Pope Francis' call to Care for Our Common Home.
Thursdays from 18th February – 25th March 2021, 7.30pm – 8.30pm. Episode 1: Bishop John Arnold, Salford Diocese and Bishop for the Environment.
News