Welcome to St John Fisher & St Thomas More Roman Catholic Church
Whether you are a regular parishioner, new to the parish, returning to the Church, a visitor, or perhaps just interested in what we do, our parish community extends a very warm welcome – through the pages of this website – to you all.  St John Fisher & St Thomas More Catholic Church is situated between the villages of Burley in Wharfedale and Menston, our address is Bradford Road, Burley-in-Wharfedale, LS29 7PX.  
You can read weekly messages from Fr Michael and from Sue, our parish council chair and download the latest bulletins.  Please see our new Children's Liturgy page – it shares some thoughts and activities for our children and their families – and our Tree of Life page – on how we are responding to Pope Francis' message in Laudato Si', encouraging us to do more to care for creation.
A message from Fr Michael
– 19th Sunday of Ordinary Time Yr A.

"Keep your eyes firmly fixed on Jesus"
Another wonderful reading from Matthew's Gospel today (14 22 -33). We have the story of Peter walking on the water towards Jesus. This is a story about faith – Peter's faith journey and our faith journey too. Peter's faith journey had moments of wonder and clarity – You are the Christ, the Son of The Living God! But there were also moments of failure when doubts and fears made him sink. "Jesus put out his hand at once and held him."
Jesus invites us to come to him across the stormy waters of life. We must keep our eyes firmly on Jesus. We must keep listening to his words of love and encouragement. If we do this, and it is not always easy, we will find that Jesus has reached out to us and is holding us safe.
Fr Michael

Re-opening of our church for Masses from Monday 6th July
You can register here to attend Mass at weekends, it allows individuals, families and groups to secure seats at Mass.  The new system will help ensure the safety of parishioners and allow us to reduce the risk of infection from COVID-19. The registration simply involves selecting a date on which you would like to attend one of the 4 weekend Masses. It will also prove to be a useful tool which will help our stewards to co-ordinate visits safely on arrival. Please note from August you will now need to bring and wear a mask when attending Mass.  Details for booking tickets are as follows:
individuals, or families of 2 sitting together, will require one ticket
families of 3 or 4 will require two tickets
any more than 4 members in a family will require further tickets and will be seated in a separate bench
please select the number of tickets at the top right-hand corner of the registration page
If for any reason you are unable to use the system, you can register by phoning the parish office: 01943 863179.
Changes to our church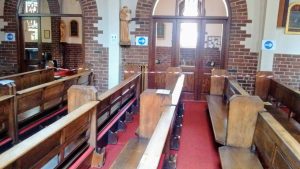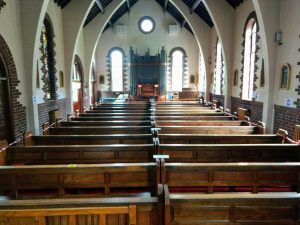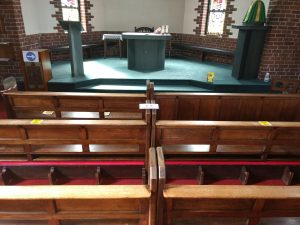 • you will see from these photos the layout of the benches has had to be changed in order to ensure distancing of 2m.
• in the lady chapel we have individual seats and these should NOT be moved
• if the Mass you want is full, you may be able to choose one of the other Mass times or attend during the week
• the stewards do
not
need to book tickets to attend Mass
• we will keep a register of all who visit to aid contact tracing
• you will now need to bring and wear a mask when attending Mass
• there will be no singing in church
• the stewards /cleaners will clean the church on a regular basis before and after each Mass
• the stewards will wear PPE
Volunteer stewards THANK YOU
Thank you and well done to all the Stewards, Cleaners and Organisers of the Church and its services over the last few weeks. You have been doing a great job keeping our Parishioners as safe and protected as you can.
Many of you will be away with your families over the next few weeks. Travel safe and enjoy your holiday.
If any other parishioners would like to help and offer to be stewards and share the load; please let Fr Michael know.
Please remember the people of Tereli in your prayers
On Tuesday 21st April, the village was attacked by as many as 300 well-armed bandits who arrived on motorbikes to loot the village and take all of the cattle. For three hours a few young people tried to hold them off with hunting rifles, while others hid in their houses or fled to the caves in the cliff overlooking Tereli. The day after, the bodies of 12 young men were found and a further 6 are still missing. With your help, the BTFT will of course do everything we can to help the people of Tereli, but it also means a great deal to the people of Tereli that we are all praying and hoping for their safety.  More details and a prayer for Tereli can be found on our Charities page.
CAFOD – Unite against coronavirus to support our brothers and sisters in developing countries.
As we cope with coronavirus in the UK, we think of our sisters and brothers in developing countries who are facing this pandemic with fragile health systems, some of which have almost no intensive care beds or ventilators.
Food prices have already risen with borders closing, the poorest are losing their jobs and income with wholesale shutdowns. Furthermore, inadequate healthcare, lack of access to washing facilities and limited ability to social distance will result in loss of life on an intolerable scale. The likely impact will be devastating.
We are one global family. In order to continue protecting and improving the lives of those in poor communities, your prayers, gifts and voices are needed now more than ever. Please visit cafod.org.uk/coronavirus to find out ways you can give, act and pray in response to this crisis.
Parish Offertory
If you would like to, and only if your circumstances allow, you can now make a donation to the Parish Offertory, either by this online page: https://donor.secure-operations.com/detailed/donate?charity_id=1086222&type=2&reference=10154&amount=
or, to contribute £5, please text CHURCH SSFM to 70500
LIVE-STREAMING OF DAILY MASS AND DEVOTIONS FROM LEEDS CATHEDRAL
Holy Mass is being live-streamed each weekday at 10:30am and on Sundays at 11:00am.  There will also be a live-stream of the Angelus at 12.00 noon each weekday, followed by praying the Rosary. To participate online, please access the Leeds Cathedral Live YouTube channel www.leedscathedrallive.org.uk where the words of Prayers, Devotions and Orders of Service may be viewed.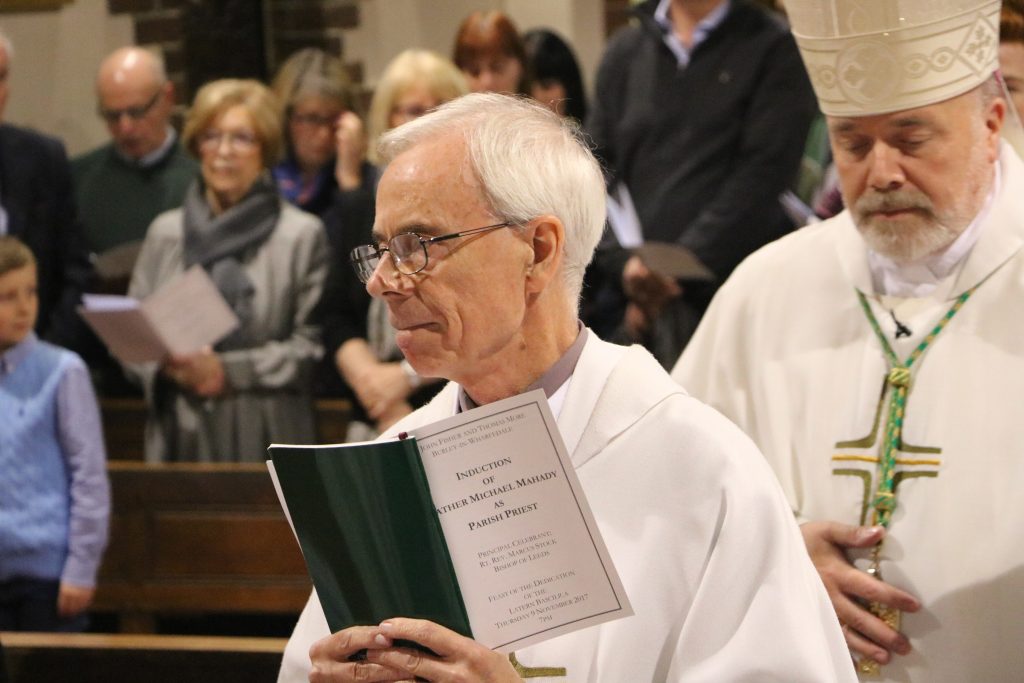 News