Welcome to St John Fisher & St Thomas More Roman Catholic Church
Whether you are a regular parishioner, new to the parish, returning to the Church, a visitor, or perhaps just interested in what we do, our parish community extends a very warm welcome – through the pages of this website – to you all.  St John Fisher & St Thomas More Catholic Church is situated between the villages of Burley in Wharfedale and Menston, our address is Bradford Road, Burley in Wharfedale, LS29 7PX.
You can read News items, weekly messages from Fr Michael and from Sue, our parish council chair, and download the latest bulletins.  Please see our Youth, family & Children's Liturgy page – it shares some thoughts and activities for our children and their families – and our Tree of Life page – on how we are responding to Pope Francis' message in Laudato Si', and his call to pray and work as a whole church, encouraging us to do more to care for creation.  Find out more here what our parish is doing.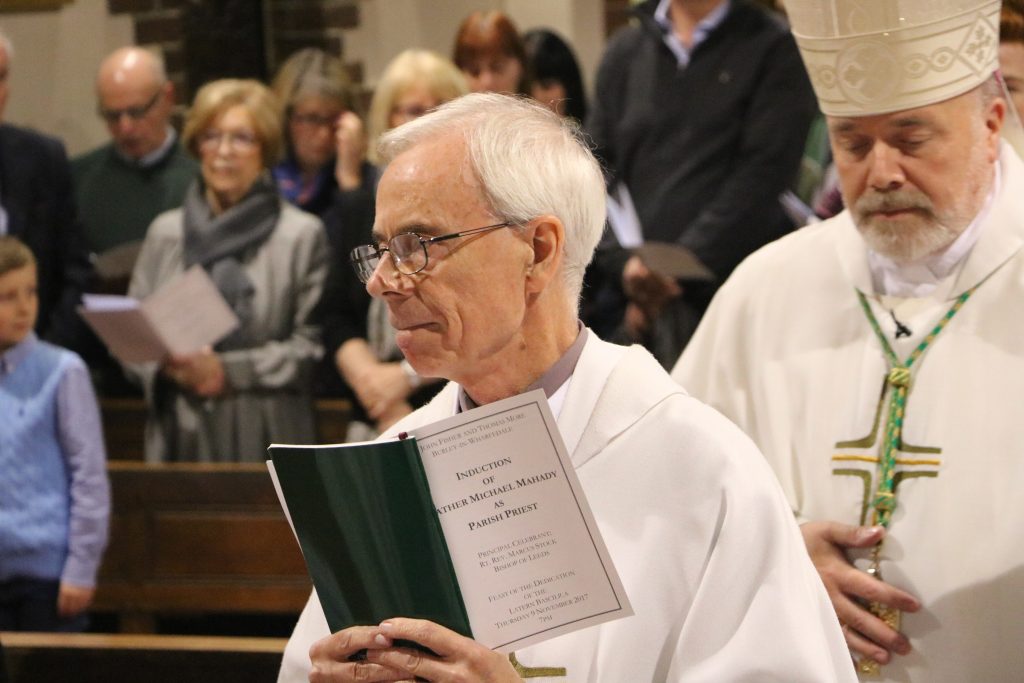 A message from Fr Michael: "Do not be afraid" Today's Gospel Mk4 35-41

So many people in the world today are afraid. We live in a "pandemic world" where the wars, violence and poverty continue. The Church also, its leaders and members, is often upset and afraid. In the midst of all our fears, God often seems to be missing, perhaps asleep as Jesus was in the boat on a stormy sea, "asleep, his head on a cushion." We do have faith but we need to ask Jesus to help the little faith we have. Jesus will not be annoyed if we wake him. Just the opposite the will be pleased that we have turned to him for his comfort and reassurance.
Fr Michael
CONGRATULATIONS & WELCOME
To Stella Nonyelum Lambton Ugboma who celebrates her baptism last weekend.
The Twelve – Diocese of Leeds Youth Leadership Team
We are looking for new members of The Twelve!
Our diocese's Youth Leadership Team gives young people aged 11-18 the opportunity to share what they are passionate about.  You can apply to be part of the Twelve by emailing Ryan Wilkinson for an application pack at: youth@dioceseofleeds.org.uk  Closing date is Sunday 20 June. You can find out more about the Twelve here.

CONFIRMATION 2021
Congratulations to our 21 young Parishioners: Amelia, Charlotte, Isaac, Lola, Miller, Samuel, William, George, Islay, Madeleine, Niamh, Robert, Thomas. Alex, Felicity, Hollie, Isabel, Joseph, Milo, Nathan, William who have received the Sacrament of Confirmation.  We enjoyed 3 wonderful Celebrations.  A very big Thank You to the parents and family members who shared in the preparation programme: to Rachel, our amazing, on-line, streaming, zooming, Catechist; and to Sue & Martin for all the administration and music.
Pentecost
Bishop Marcus' Pastoral Letter for Pentecost talks about the role we all have a part to play in the routines, choices and decisions of our everyday lives and our aspirations for the future.  We have either been ignorant of, or ignored, the systematic exploitation of our planet and the unsustainable consumption of its resources.  Bishop Marcus asks us to "keep this Feast with that enduring hope that we can begin to repair the damage we have done and provide a healthy home for future generations."
Novena on the Care of Creation
We are invited to respond in prayer and action to the urgent climate change issues that we all face. The God Who Speaks team offers this Novena of readings and prayers drawn from the Bible and recent Papal teaching.  Between Ascension and Pentecost, the Scriptures tell us: "All these with one accord were devoting themselves to prayer together with the women and Mary the mother of Jesus, and his brothers…" (Acts 1:14) while they awaited to be "clothed with power from on high." (Luke 24:49).
Attending Mass
Our church reopened for public Masses on Monday 1st March.  You will be able to register here to attend Mass at weekends, it allows individuals, families and groups to secure seats at Mass.  The system helps to ensure the safety of parishioners and allow us to reduce the risk of infection from COVID-19. The registration simply involves selecting a date on which you would like to attend one of the 4 weekend Masses. It will also prove to be a useful tool which will help our stewards to co-ordinate visits safely on arrival. Please note you will need to bring and wear a mask when attending Mass.  Details for booking tickets are as follows:
individuals, or families of 2 sitting together, will require one ticket
families of 3 or 4 will require two tickets
any more than 4 members in a family will require further tickets and will be seated in a separate bench
please select the number of tickets at the top right-hand corner of the registration page
If for any reason you are unable to use the system, you can register by phoning the parish office: 01943 863179.
Diocesan Justice & Peace Commission
You can read this month's newsletter on our Diocesan news & events page.
News