Welcome to St John Fisher & St Thomas More Roman Catholic Church
Whether you are a regular parishioner, new to the parish, returning to the Church, a visitor, or perhaps just interested in what we do, our parish community extends a very warm welcome – through the pages of this website – to you all.  St John Fisher & St Thomas More Catholic Church is situated between the villages of Burley in Wharfedale and Menston, our address is Bradford Road, Burley in Wharfedale, LS29 7PX.
You can read News items, weekly messages from Fr Michael and from Sue, our parish council chair, and download the latest bulletins.  Please see our Youth, family & Children's Liturgy page – it shares some thoughts and activities for our children and their families – and our Tree of Life page – on how we are responding to Pope Francis' message in Laudato Si', and his call to pray and work as a whole church, encouraging us to do more to care for creation.  Find out more here what our parish is doing.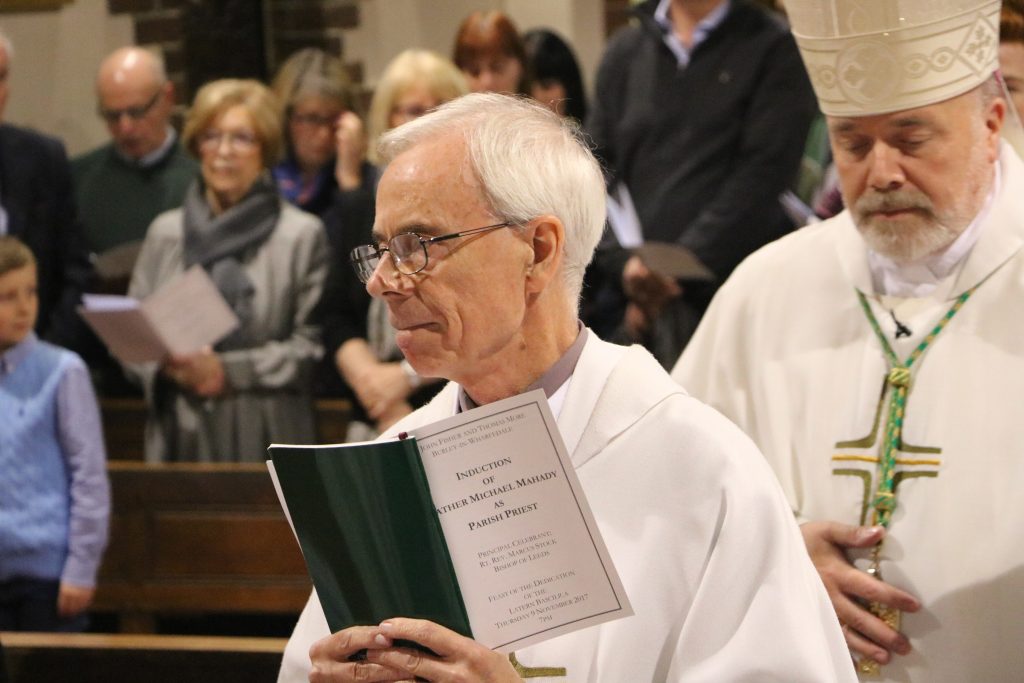 A message from Fr Michael: Barnabas – "Son of Encouragement"
St Barnabas is one of my favourite Saints.
He was from a Jewish family and lived on the beautiful Island of Cyprus. When he responded in faith to the good news about Jesus, he became a follower of the Way. His name was at that time, Joseph. Because of his gift for encouraging others, and enabling them to use their gifts, the Community gave him a new name; "Barnabas; which means "Son of Encouragement."  Barnabas went to search for the newly converted Saul of Tarsus and asked him to join with him preaching the Gospel in Antioch. They worked together for a whole year and it was there at Antioch that the disciples were first called "Christians."
May we imitate Barnabas by bringing encouragement and hope to the people we meet.
Fr Michael
Our young parishioners

Please pray for our children who are beginning preparation for their First Holy Communion.
Tree of Life
On Sunday 22 May between 10am – 1pm two of CAFOD's LiveSimply assessors will visit our parish. They will meet us to discuss what we have already done, what new projects we will be doing and be with us for the 11am Mass. Do join us!  See our Tree of Life page for more information.
A Prayer for Ukraine
Loving God,
We pray for the people of Ukraine,
for all those suffering or afraid,
that you will be close to them and protect them. We pray for world leaders,
for compassion, strength and wisdom to guide their choices.
We pray for the world
that in this moment of crisis,
we may reach out in solidarity
to our brothers and sisters in need.
May we walk in your ways
so that peace and justice
become a reality for the people of Ukraine
and for all the world.
Amen.
CONGRATULATIONS TO ALL OUR CONFIRMANDII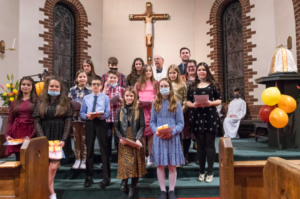 Alice, Alister, Annie, Christopher, Cora, Devon, Evie, Finnegan, Francesca, Ina, Isaac, Poppy, Sebbie, Sofia and Sophia who received the Sacrament of Confirmation from Canon Michael here in our church, a week last Wednesday. It was wonderful to welcome so many family members. Many thanks to all who made this service a special time for our lovely Youth members. May the Holy Spirit continue to inspire them to choose wise, kind and loving ways. We wish them many blessings and much happiness in all they do.
READING at Church
Last year and this year, several Confirmation candidates said they would offer to read at Mass.
We would love this to happen! You can choose the Mass you prefer to attend and if you all come forward …you would read once a month or less.
You can read with another young person; one of your Parents or Siblings or another adult in the Parish Family or just by yourself. The more info you give to Theresa the better. Theresa's email is jerrett202@gmail.com
Pope Francis' message for COP26
In a message recorded for the BBC's 
Thought for the Day programme
, Pope Francis has called on world leaders meeting next week at the UN Climate conference in Glasgow (COP26) to provide "effective responses" to the environment emergency and offer "concrete hope" to future generations.  You can hear Pope Francis' message and more information here:  
https://www.bbc.co.uk/news/world-europe-59075041
or read the message
here
.
Confirmation 2021
A small Parish Church building but a large group of youth members of our Parish Family chose to receive the Sacrament of Confirmation at the end of May.
The photos show Fr Michael having Bishop Marcus's special permission to bestow the sacrament of Confirmation on Year 6 students of the Parish Family and lifelong friends now confirmed as friends forever!
What a splendid choice of Confirmation names …… Anne, Anthony of Padua. Bridget, Cecelia, Christopher, Edward, Frances, Francis, Irene, Mark, Oscar de Romero,  Patrick, Peter, Philomena, Sebastian and Therese;  so many great saints!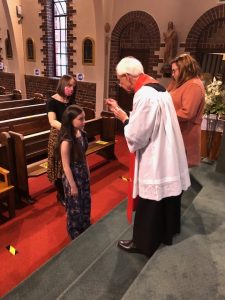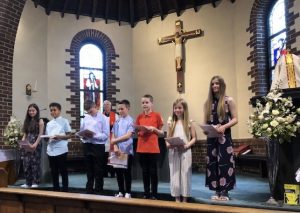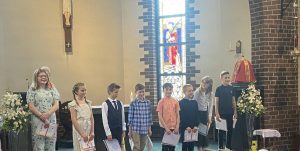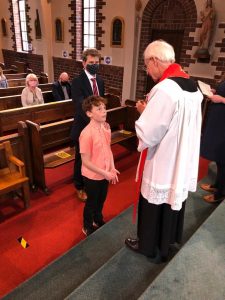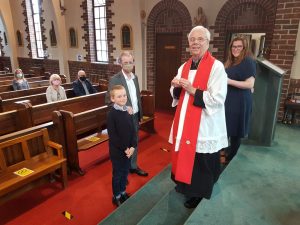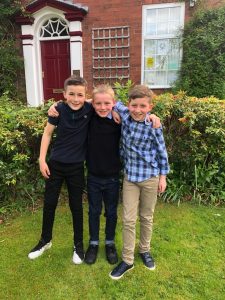 Pentecost
Bishop Marcus' Pastoral Letter for Pentecost talks about the role we all have a part to play in the routines, choices and decisions of our everyday lives and our aspirations for the future.  We have either been ignorant of, or ignored, the systematic exploitation of our planet and the unsustainable consumption of its resources.  Bishop Marcus asks us to "keep this Feast with that enduring hope that we can begin to repair the damage we have done and provide a healthy home for future generations."
Novena on the Care of Creation
We are invited to respond in prayer and action to the urgent climate change issues that we all face. The God Who Speaks team offers this Novena of readings and prayers drawn from the Bible and recent Papal teaching.  Between Ascension and Pentecost, the Scriptures tell us: "All these with one accord were devoting themselves to prayer together with the women and Mary the mother of Jesus, and his brothers…" (Acts 1:14) while they awaited to be "clothed with power from on high." (Luke 24:49).
Diocesan Justice & Peace Commission
You can read this month's newsletter on our Diocesan news & events page.