Welcome to St John Fisher & St Thomas More Roman Catholic Church
St John Fisher & St Thomas More Catholic Church is situated between the villages of Burley in Wharfedale and Menston, our address is Bradford Road, Burley-in-Wharfedale, LS29 7PX.  Whether you are a regular parishioner, new to the parish, returning to the Church, a visitor, or perhaps just interested in what we do, our parish community extends a very warm welcome – through the pages of this website – to you all.
You can read weekly messages from Fr Michael and from Sue, our parish council chair and download the latest bulletins.  Please see our new Children's Liturgy page – it shares some thoughts and activities for our children and their families – this week looking after sunflower seedlings – and our Tree of Life page – on how we are responding to Pope Francis' message in Laudato Si', encouraging us to do more to care for creation.

A message from Fr Michael
The parting words of Jesus to his disciples were: – Go to the ends of the earth and proclaim the Good News. But he added, "Not yet." You must wait for the gift from God – the Holy Spirit. The disciples obeyed the instructions. They went back into "lockdown" in the upper room. They prayed in union with Mary, the mother of Jesus, for the gifts of the Holy Spirit who would teach them everything. Without them realizing, the Holy Spirit was already with them, instructing them, granting them a new wisdom and a deeper love of God. Ten days later, they were ready. The gentle Spirit of God was now a Hurricane, shaking them to the core. They were no longer afraid but ran into the streets to proclaim the Good News. The Church had begun; the Church was born through the power of the Holy Spirit. Some time, soon, we hope, we the Church will emerge from lockdown. Hopefully we have been preparing for the moment as we have listened to the wisdom of the Holy Spirit. What kind of Church does God call us to be at our New Pentecost?
Fr Michael
You are invited to join the National Rosary Rally taking place in dioceses throughout England, Wales and Scotland from 9am to 9pm on Pentecost Sunday 31st May. (Diocese of Leeds from 6pm to 7pm) For full details go to the Diocesan web site: here
Please remember the people of Tereli in your prayers
On Tuesday 21st April, the village was attacked by as many as 300 well-armed bandits who arrived on motorbikes to loot the village and take all of the cattle. For three hours a few young people tried to hold them off with hunting rifles, while others hid in their houses or fled to the caves in the cliff overlooking Tereli. The day after, the bodies of 12 young men were found and a further 6 are still missing. With your help, the BTFT will of course do everything we can to help the people of Tereli, but it also means a great deal to the people of Tereli that we are all praying and hoping for their safety.  More details and a prayer for Tereli can be found on our Charities page.
CAFOD – Unite against coronavirus to support our brothers and sisters in developing countries.
As we cope with coronavirus in the UK, we think of our sisters and brothers in developing countries who are facing this pandemic with fragile health systems, some of which have almost no intensive care beds or ventilators.
Food prices have already risen with borders closing, the poorest are losing their jobs and income with wholesale shutdowns. Furthermore, inadequate healthcare, lack of access to washing facilities and limited ability to social distance will result in loss of life on an intolerable scale. The likely impact will be devastating.
We are one global family. In order to continue protecting and improving the lives of those in poor communities, your prayers, gifts and voices are needed now more than ever. Please visit cafod.org.uk/coronavirus to find out ways you can give, act and pray in response to this crisis.
Parish Offertory
If you would like to, and only if your circumstances allow, you can now make a donation to the Parish Offertory, either by this online page: https://donor.secure-operations.com/detailed/donate?charity_id=1086222&type=2&reference=10154&amount=
or, to contribute £5, please text CHURCH SSFM to 70500
LIVE-STREAMING OF DAILY MASS AND DEVOTIONS FROM LEEDS CATHEDRAL
Holy Mass is being live-streamed each weekday at 10:30am and on Sundays at 11:00am.  There will also be a live-stream of the Angelus at 12.00 noon each weekday, followed by praying the Rosary. To participate online, please access the Leeds Cathedral Live YouTube channel www.leedscathedrallive.org.uk where the words of Prayers, Devotions and Orders of Service may be viewed.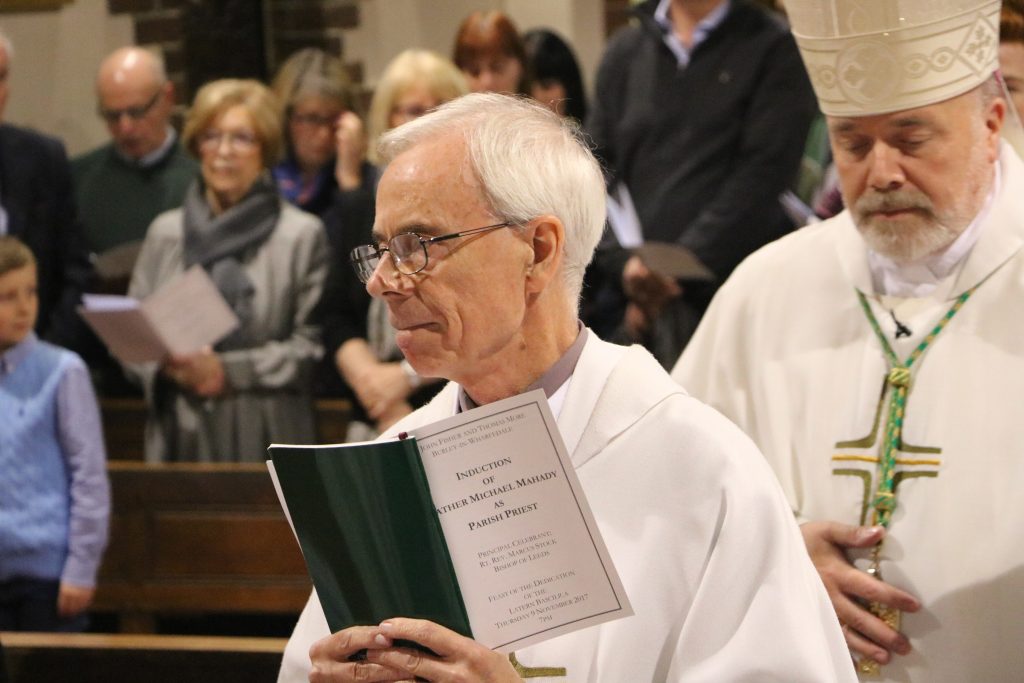 News
A special Lenten fast prayer
Give up harsh words: use generous ones.
Give up unhappiness: take up gratitude.
Give up anger: take up gentleness and patience.
Give up pessimism: take up hope and optimism.
Give up worrying: take up trust in God.
Give up complaining: value what you have.
Give up stress: take up prayer.
Give up judging others: discover Jesus within them.
Give up sorrow and bitterness: fill your heart with joy.
Give up selfishness: take up compassion for others.
Give up being unforgiving: learn reconciliation.
Give up words: fill yourself with silence, and listen to others.
See here for more Lent prayers
Parish Family Events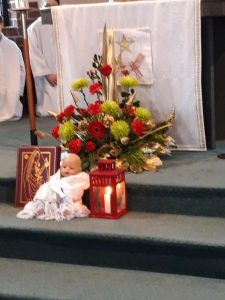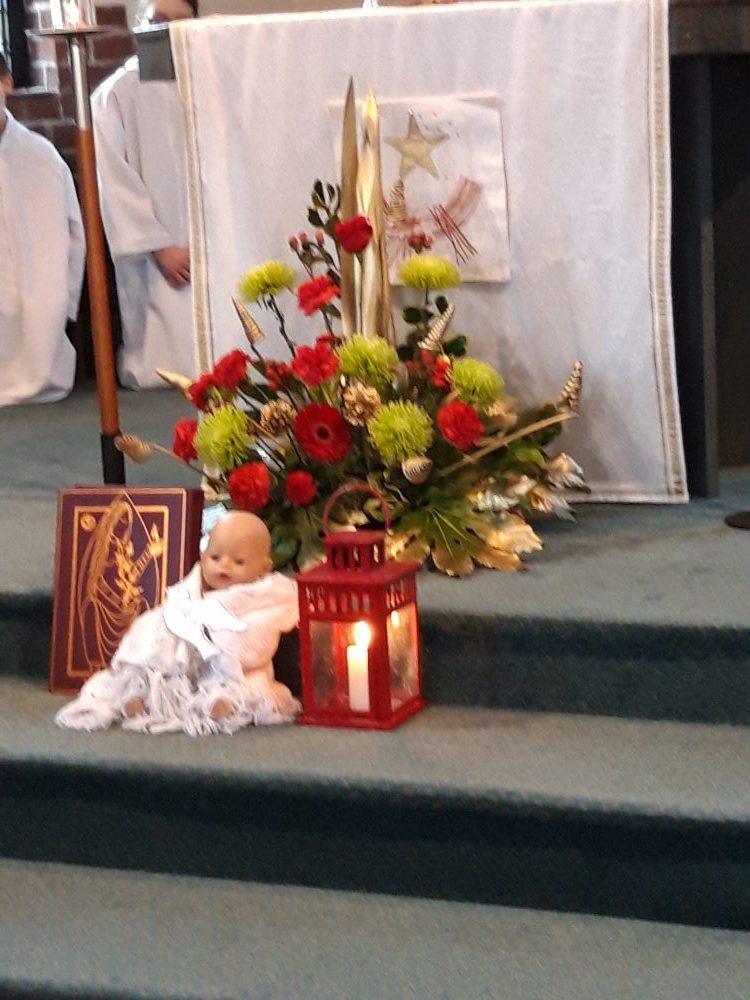 Today was the Feast of the Baptism of Our Lord and the children spent time finding out about the Sacrament of Baptism, which most of them received when they were too young to remember !! Robyn the baby doll proved the perfect baptismal candidate.
Christmas vigil mass for children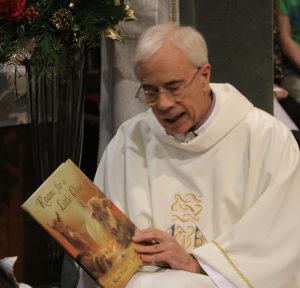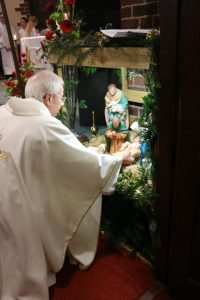 The mass was directed at our children, our young parishioners did the readings and the bidding prayers.
Children read the Gospel story whilst others gathered on the altar steps when their part was mentioned. We had Mary and Joseph, lots of lovely angels, shepherds and lambs—plus the kings.
Fr Michael blessed the crib and then sat on the steps to read the children a Christmas story—called 'Room for a Little One'. We sang lots of lovely Christmas carols, it was the perfect start to Christmas.
Special mass for altar servers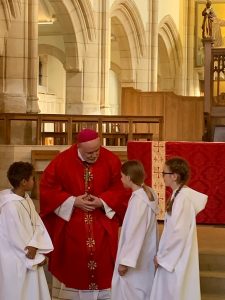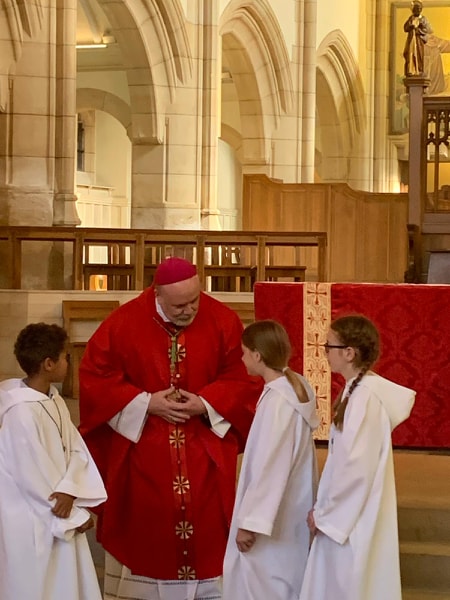 On 21st September 2019 Bishop Marcus celebrated a special mass for the altar servers of the diocese. About 80 attended with their families. 3 of our servers represented our parish family. Bishop Marcus thanked the servers for their loyal service to God.  It was a wonderful way to show the servers how important they are to us all.
Parish family walk 2019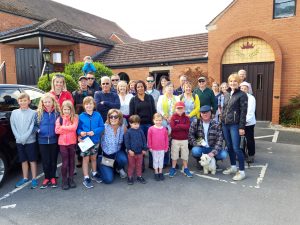 A very happy and chatty bunch gathered after the 'Back to School' 11am Mass  for a picnic in the Parish Hall.  Next a short walk led by Martin, was enjoyed by all from 2 years old to where "80 years young" has been celebrated!!  As the walkers ran back across the car park  the heavens opened!  The wet clothes were quickly forgotten as they were greeted with tea and scrumptious cakes!!
Thank you everyone for such a happy time together as Parish Family!
Diary date for next year Sunday 6th September .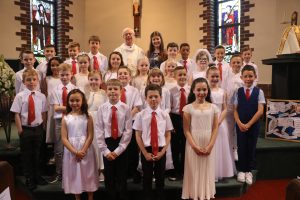 Congratulations to all of our children celebrating their first holy communion on 15&16 June.  Fr Michael said, 'It has been a wonderful occasion for our whole parish family. I am hoping that many of the children will now wish to train as altar servers and many take part in the Children's Liturgy of the Word group during the 11:00 Mass each weekend.'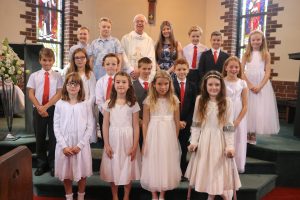 Ilkley half marathon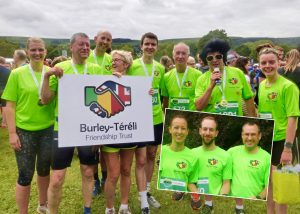 Sunday 14 July 2019 was a great event, the weather was fine, not too hot, and our runners were cheered on throughout the route. We would like to thank all the Burley churches, families and friends for your amazing, generous support, both on the day and your donations to support Zakari and his colleagues as they strive to initiate a palliative care programme for cancer in Mali. We raised an amazing £7,900, which will make a real difference and is what helped to inspire us during the run.
Chris, Keith, Tom, Colin, Neil, India, Richard, Mary, Lynne, David, & Laura
Celebrating Mothering Sunday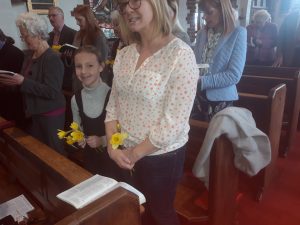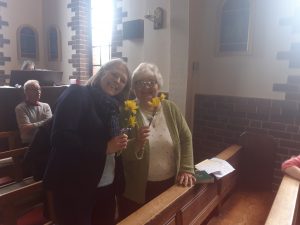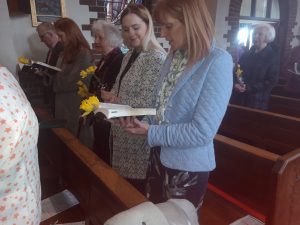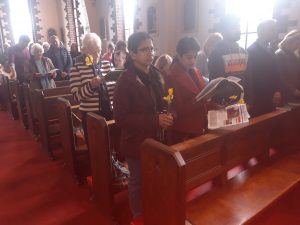 Children of the Parish Family presented all the ladies with daffodils galore. Thank you to this year's Flower Fairy Godmother Pat for preparing all the lovely daffodils!
Catholic Care Bulletin Spring 2019 – SS John Fisher & Thomas More parish family receives a mention … Bags of Dignity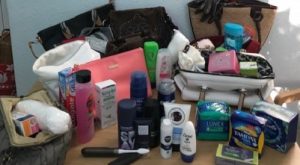 A huge thank you goes to Parish Family of SS John Fisher and Thomas More Parish, Burley-in-Wharfedale; who had the novel idea of filling used handbags with toiletries, ladies products and men's personal hygiene and shaving necessities for those in need. 
Six bags have been given to Sheila Pickles from St Monica's Housing to give to the destitute asylum seeking women in the House in Beeston, four bags have been retained for the new house in Harehills for the destitute asylum seeking women who will be housed there. Carol Hill (Director of Catholic Care) made the final delivery of the remaining bags to St George's Crypt to support homeless men and women.
Martin Patterson (Development Director at St George's Crypt) said people often forget about specific ladies toiletries and the bags were very welcome. He thanked those who had donated.
DAY OF REFLECTION: Caring for the Earth – Our Common Home: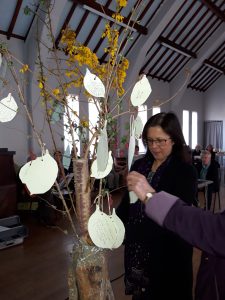 The Justice & Peace Commission held its Day of Reflection on 30 March at our church.   It was a day of prayer and personal reflection about our place in God's creation and our responsibilities towards looking after our common home. We discussed some main themes in Pope Francis' encyclical Laudato si.  We heard about
– what the parish of Our Lady of Kirkstall has achieved in their Live Simply actions
– a person from an indigenous community talking about opposition to mining
– Greta Thunberg's address to COP24 in Katowice about political action
We finished with discussions about personal and parish actions that we can do,  committing these to paper in the shape of a leaf for our future use.
Sacrament of Confirmation 2019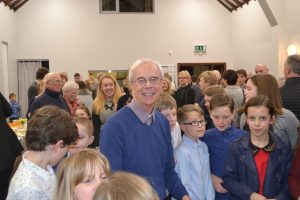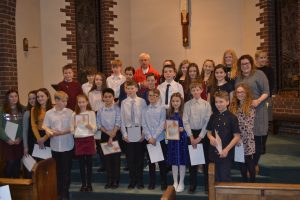 On 28th February 2019 26 year 6 & year 7 students received the Sacrament of Confirmation from Canon Michael. Our Catechists Rachel and Liz thoroughly enjoyed the preparation sessions. It was wonderful to hear Saint John Paul being chosen as her Confirmation name by one of the students. Laughter was the keynote of each session as it was at the gathering in the parish hall after the celebration of the sacrament. Both church and hall were filled to overflowing as the parish family gathered with Father Michael to share a party supper!
Sacrament of Reconciliation 2019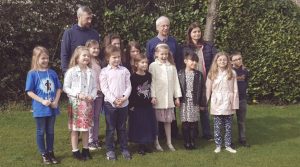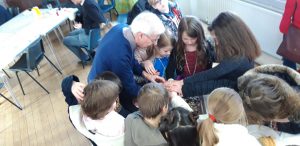 Eleven younger members of the Parish Family made their First Confession on Saturday 23rd March. Canon Michael thought them the best group ever! The children told their Catechist James, helped by Gabby and other parents, they had had a lot of fun in their preparation sessions. After receiving the Sacrament the celebrations continued in the Parish Hall with a party for children and families – as the photos show Father got lots of help when cutting the scrumptious cakes!
Bishop of Leeds' annual appeal for Catholic Care
Bishop Marcus has asked us to support our diocesan charity Catholic Care.  You can read Bishop Marcus' letter here.
Bishop of Leeds' letter to the clergy and faithful of the diocese
Bishop Marcus has responded in his capacity as Bishop of Leeds to the publication on 20th August 2018  of the Holy Father's
Letter to the People of God
on the need for '…combatting all forms of the abuse of power, sexual abuse and the abuse of conscience'.  You can read Pope Francis' letter
here
and Bishop Marcus' letter
here
.
Mass readings
Readings for daily Mass and prayers can be found at
Universalis
Our parish prayer

God our loving Father,
You made us your children in baptism.
Pour out on us the gifts of your Holy Spirit.
Help us as a parish to know the paths we must follow so as to build up your kingdom.
Teach us to grow in faith, to encourage one another with words of hope, and to care for your family with love.
Let us bear witness to the Good News, and be faithful followers of your Son, our Lord Jesus Christ who lives and reigns with you and the Holy Spirit for ever and ever. Amen
Catholic Care
Catholic Care is one of the charities we support.  A link to a short video describing its work can be found
here
and further information is given on our
charities webpage
.