CAFOD

CAFOD is the Catholic Agency For Overseas Development.  For more information or if you wish to help our work please contact Rosalia by email: markandrosalia@btinternet.com
CAFOD Coronavirus Appeal
CAFOD launched its coronavirus emergency appeal on 30 April. Coronavirus (Covid-19) has now spread worldwide, with confirmed cases in many countries where CAFOD works. The effects of coronavirus on developing countries are likely to be devastating. Many countries have very weak healthcare systems and will not be able to cope. Families without enough to eat and without access to clean water, possibly living with other diseases, will be particularly vulnerable to coronavirus. It is not just a public health emergency. Many of the world's most vulnerable people will lose their jobs and be unable to support their families. The poorest and most marginalised communities, working hard to transform their lives, will be pushed further into poverty. CAFOD is adapting its programmes to help manage the risk of coronavirus in communities and working with local Church aid agencies on the frontline of this crisis. They are already working to get food to where it is needed most; to improve hygiene, handwashing and sanitation in communities and households; producing radio messages, posters and leaflets in local languages on risks and prevention; and training community volunteers to carry out awareness campaigns. In order to continue protecting and improving the lives of those in poor communities, your prayers and gifts are needed now more than ever. While we are not able to hold collections in our church, you can donate at cafod.org.uk/coronavirusappeal
We are living through one of the global events that will shape humanity, and our response can only be the response of the heart of God. We need to be his hands and feet – we cannot do otherwise.
With my sincere thanks and my prayers,
Christine Allen
Director, CAFOD
Connect2: El Salvador
Our parish has supported CAFOD's work with the Puentecitos community in El Salvador since 2016.  Read here about the amazing projects have been completed, helping to improve people's income and food production in this very poor region of the country.  From January 2019 our parish is supporting people in Magdalena Medio, Columbia through CAFOD's HandsOn programme.
Pope Francis calls on fossil fuel bosses to switch to renewable energy
Pope Francis has directly appealed to oil and gas companies to move from fossil fuels to renewable energy in order to prevent climate change pushing the world's poorest people deeper into poverty. The Pope issued the call at a meeting held in the Vatican on Saturday 9 June 2018 attended by executives from many of the largest global energy companies.
The Holy Father told the fossil fuel representatives that switching to clean energy such as solar and wind power "is a duty that we owe towards millions of our brothers and sisters around the world, poorer countries and generations yet to come".
Add your voice to the Pope's call to bring energy access to poor communities
Renewables, not fossil fuels, needed for energy access
Some energy industry figures have tried to argue that fossil fuels such as coal, oil and gas are necessary to tackle poverty, as people need access to energy to pull themselves out of poverty. However, the burning of fossil fuels is the main cause of the climate change which is having the greatest impact on poor communities.
"We received the earth as a garden-home from the Creator; let us not pass it on to future generations as a wilderness" – Pope Francis
And research from CAFOD and groups such as the Overseas Development Institute has shown that off-grid energy powered by renewable sources such as solar power are usually the quickest, cheapest, safest and most reliable way of bringing electricity to poor communities. Pope Francis echoed this, telling the oil and gas bosses that "the more than one billion people without electricity today need to gain access to it" if we are to end energy poverty, but "that energy should also be clean" – not generated by fossil fuels. Francis said:
"Our desire to ensure energy for all must not lead to the undesired effect of a spiral of extreme climate changes due to a catastrophic rise in global temperatures, harsher environments and increased levels of poverty".
Speak Up to your MP about tackling climate change
We must meet Paris Agreement commitments to protect the poorest people
Pope Francis reminded the energy leaders at the Rome meeting that searching for new fossil fuels to burn is incompatible with the Paris Agreement goal of limiting global temperature rises. Instead, business leaders must speed up the transition from fossil fuels to renewable energy as it is "the poor who suffer most from the ravages of global warming". The Pope said:
"Many of those who can least afford it are already being forced to leave their homes and migrate to other places that may or may not prove welcoming. Many more will need to do so in the future."
Share the journey with refugees affected by climate change
Dialogue to care for our common home
Neil Thorns, Director of Advocacy at CAFOD, said:
"The Holy Father wrote in Laudato Si' that he wanted to 'enter into dialogue with all people about our common home'. Preaching to the not-yet-converted at this week's meeting is an example of the Church doing exactly this.
"Francis reminds us in his encyclical that 'Business is a noble vocation', but also asks why anyone would want to be remembered for failing to act when the world's poorest people are being pushed deeper into poverty by climate change. It's a question fossil fuel executives would do well to ask themselves.
"If energy companies are serious about caring for our common home, they need to take the Pope's advice and hurry up with shifting their priorities – and therefore their money – from fossil fuels to renewables."
PRAYER FOR THE ENVIRONMENT

– inspired by "Laudato Si"
Living God,
have mercy on us,
for the times we forget
that we belong to each other.
You call us to be still,
to hear the whisper of our Sister Wind,
to feel the radiance of our Brother Sun,
and to be nourished by our Mother Earth.
Renew us in your healing love.
Inspire us to water the earth,
and nurture one another,
so all may flourish.
Together, as one family,
may we always sing your praise.
Through Christ our Lord, Amen.
Rachel McCarthy/CAFOD
CAFOD is an international development charity and the official aid agency of the Catholic Church in England and Wales. CAFOD stands beside people living in poverty – whatever their religion or culture. Through local church partners, the Agency helps people directly in their own communities, and campaigns for global justice, so that everyone can reach their full potential. Our parish supports CAFOD and its Connect2 project in el Salvador. We do this in several ways:
-from Lent and Harvest appeals
-donating and selling used books in the church foyer – in 2016 we raised £216
-supporting our parish team running in the Great North Run each September – since 2005 they have raised over £10,000 to support CAFOD and local charities through sponsorship from the parish, families and friends.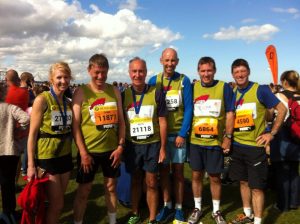 Our 2015 team at the finish!
Information and forthcoming events
The Leeds office is situated in Hinsley Hall, Leeds. It provides information on local and national events and how to get involved. See https://cafodleeds.wordpress.com for more details.
Climate change
CAFOD works with other agencies to call for action on climate change. Its campaign One Climate, One World is calling for politicians to work together to:
prevent climate change pushing people deeper into poverty

support the transition from polluting fossil fuels to sustainable energy for all
News
Anne Judge
ANNE JUDGE – REFLECTIONS 20th February 1928 – 19th March 2020 Anne was born on the 20th February 1928 in Granard, County Longford in the Republic of Ireland and after a lifetime of loving service, this smiling and gracious servant of God, returned peacefully to the Lord on 19th March 2020. She was the last […]
Parish Family Events
Today was the Feast of the Baptism of Our Lord and the children spent time finding out about the Sacrament of Baptism, which most of them received when they were too young to remember !! Robyn the baby doll proved the perfect baptismal candidate.
Sacrament of Reconciliation 2019
Eleven younger members of the Parish Family made their First Confession on Saturday 23rd March. Canon Michael thought them the best group ever! The children told their Catechist James, helped by Gabby and other parents, they had had a lot of fun in their preparation sessions. After receiving the Sacrament the celebrations continued in the […]
Christmas vigil mass for children
The mass was directed at our children, our young parishioners did the readings and the bidding prayers. Children read the Gospel story whilst others gathered on the altar steps when their part was mentioned. We had Mary and Joseph, lots of lovely angels, shepherds and lambs—plus the kings. Fr Michael blessed the crib and then […]
Special mass for altar servers
On 21st September Bishop Marcus celebrated a special mass for the altar servers of the diocese. About 80 attended with their families. 3 of our servers represented our parish family. Bishop Marcus thanked the servers for their loyal service to God.  It was a wonderful way to show the servers how important they are to us all.
Parish family walk 2019
A very happy and chatty bunch gathered after the 'Back to School' 11am Mass  for a picnic in the Parish Hall.  Next a short walk led by Martin, was enjoyed by all from 2 years old to where "80 years young" has been celebrated!!  As the walkers ran back across the car park  the heavens opened!  […]